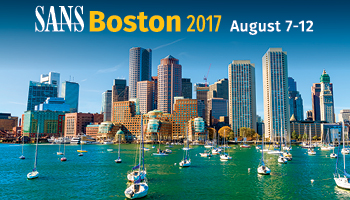 Train in the heart of downtown Boston
Choose from 10 hands-on information security courses aimed at all types of professionals
Participate in the Core NetWars Experience: Aug. 10 & 11
Learn valuable skills applicable to your security role, which you will be able to implement immediately
Information Security Training in Boston, MA
Develop much-needed techniques to protect against today's cyber-attacks. Join us for SANS Boston 2017 (August 7-12), and get hands-on training to sharpen your skills and accelerate your cybersecurity career.
"SANS always has the most relevant content and best instructors of any IT security training out there." - Mark Henneman, Holland & Knight
Take advantage of these opportunities to get the most out of your training:
Challenge your skills during two nights of Core NetWars Experience (FREE with any 4-6 Day SANS course registration).
Distinguish yourself as an information security leader by preparing for your GIAC Certification.
Network with like-minded security professionals facing similar challenges.
Attend evening bonus sessions led by SANS instructors and gain insight into the latest cybersecurity topics. Keynote will be "Exploitation Throughout the Ages: Stacks, Canaries, ASLR, ROP and More!" by David Hoelzer.
Extend your SANS course by four months with an OnDemand Bundle.
Don't miss this opportunity to learn from the best, and gain knowledge you can put to work immediately.
"SANS events are some of my personally favorite things. There's great instructors, material, peers, and more to ensure that you get the greatest value out of an event. I highly recommend seeking the training you need from SANS, and do it in person when possible, because it's a great experience all around." - Dan S., DoD
To follow or tweet about this event, use hashtag #SANSBoston. Follow SANS at http://twitter.com/SANSInstitute