DEV522: Defending Web Applications Security Essentials
Sold Out
Mon, July 28 - Sat, August 2, 2014
Not only does DEV522 teach the defenses for securing web apps, it also shows how common and easy the attacks are thus the need to secure the apps.

Specific and hands on training regarding webserver and browser security as it is presented in DEV522 is valuable! The cost of bugs and vulnerabilities can be immeasurable.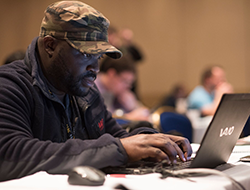 This is the course to take if you have to defend web applications!
Traditional network defenses, such as firewalls, fail to secure web applications. The quantity and importance of data entrusted to web applications is growing, and defenders need to learn how to secure it. DEV522 covers the OWASP Top 10 and will help you to better understand web application vulnerabilities, thus enabling you to properly defend your organization's web assets.
Mitigation strategies from an infrastructure, architecture, and coding perspective will be discussed alongside real-world implementations that really work. The testing aspect of vulnerabilities will also be covered so you can ensure your application is tested for the vulnerabilities discussed in class.
To maximize the benefit for a wider range of audiences, the discussions in this course will be programming language agnostic. Focus will be maintained on security strategies rather than coding level implementation.
DEV522: Defending Web Applications Security Essentials is intended for anyone tasked with implementing, managing, or protecting Web applications. It is particularly well suited to application security analysts, developers, application architects, pen testers, and auditors who are interested in recommending proper mitigations to web security issues and infrastructure security professionals who have an interest in better defending their web applications.
The course will cover the topics outlined by OWASP's Top 10 risks document as well as additional issues the authors found of importance in their day-to-day web application development practice. The topics that will be covered include:
Infrastructure Security
Server Configuration
Authentication mechanisms
Application language configuration
Application coding errors like SQL Injection and Cross-Site Scripting
Cross-Site Request Forging
Authentication Bypass
Web services and related flaws
Web 2.0 and its use of web services
XPATH and XQUERY languages and injection
Business logic flaws
Protective HTTP Headers
The course will make heavy use of hands-on exercises. It will conclude with a large defensive exercise, reinforcing the lessons learned throughout the week.
Course Syllabus
Additional Information
It cannot be stressed enough that if your laptop does not meet minimum configuration requirements, you will not be able to participate in this course.
Students attending this course are required to bring their own laptops pre-configured per the instructions below. This must be done before class starts.
Mandatory Laptop Hardware Requirements:
2GHz processor
4GB RAM with 6 GB or higher recommended
6GB free hard disk space
DVD-ROM drive
An unused USB slot
A laptop with Windows 2000, XP, Vista, 7, or 8 is required with the latest Service Packs and patches.
Install VMware Player or VMware Workstation on the laptop. (GSX and ESX will not work.) VMware player can be downloaded for free at http://www.vmware.com. VMWare Fusion for Mac OS X can be used for Apple MacBooks provided the hardware requirements above are met.
You must have administrative privileges on the laptop with the ability to disable the host firewall (Windows firewall or other third party firewall) and anti-virus running on your desktop. At the beginning of class you will be given a Linux VMWare image. This image will be booted within VMware as a virtual machine for all the exercises.
If you have additional questions about the laptop specifications, please contact laptop_prep@sans.org.
Application developers
Application security analysts or managers
Application architects
Penetration testers who are interested in learning about defensive strategies
Security professionals who are interested in learning about web application security
Auditors who need to understand defensive mechanisms in web applications
Employees of PCI compliant organizations who need to be trained to comply with PCI requirements
This class requires a basic understanding of web application technology and concepts such as HTML and JavaScript.
Not only does Dev522 teach the defenses for securing web apps, it also shows how common and easy the attacks are thus the need to secure the apps. - Brandon Hardin, ITC
"As the world moves everything online, Dev 522 is a necessity." - Chris Spinder, B/E Aerospace, Inc.
"I think Dev522 is absolutely necessary to all techies who work on web applications. I donâÂÂt think developers understand the great necessity of web security and why it is so important." - Mahesh Kandru, Cabela's
"Dev 522 provides good web application basics and gives an excellent understanding of application from security perspective." - Tarun Madiraju, NOPSEC
"Specific and hands on training regarding webserver and browser security as it is presented in Dev 522 is valuable! The cost of bugs and vulnerabilities can be immeasurable." - Josh Hegg, Tripwire
Author Statement
Too many websites are getting compromised these days. Our goal for this course is to arm the students with defensive strategies that can work for all web applications. We all know it is very difficult to defend a web application; there are so many different types of vulnerabilities and attack channels. Overlook one thing and your web app is owned. The defensive perimeter needs to extend far beyond just the coding aspects of web application. In this course, we cover the security vulnerabilities so students have a good understanding of the problems at hand. We then provide the defensive strategies and tricks as well as overall architecture that are proven to help secure sites. I have also included some case studies throughout the course so we can learn from the mistakes of others and make our own defense stronger. The exercises in class were designed to help you further the understanding and help retain the knowledge by hands-on practice. By the end of the course, you will have the practical skills and understanding of the defensive strategies to lock down existing applications,as well as building more secure applications in the future.