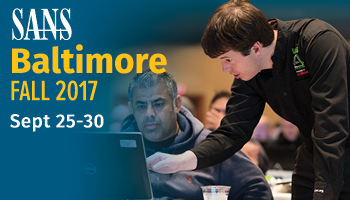 Security Training in Baltimore
Choose from 10 information security courses taught by leading industry experts
Sharpen your skills with hands-on exercises and labs
Attend the keynote: "The Internet of Evil Things" with Dr. Johannes Ullrich
Register for the SANS Startup 360 session and gain insight into potentially useful new products and services, as well as hear from local cybersecurity startups. This session is free for SANS Baltimore 2017 students and others who wish to attend.
Register Here!
Now is the time to advance your career and develop skills to better protect your organization. Join us at SANS Baltimore Fall 2017 (September 25-30), and learn directly from the world's top cyber security practitioners. Through hands-on immersion training, our courses provide you with the cutting-edge skills to defend your organization against security breaches and prevent future attacks.
"Teaches, informs, and challenges the intellect." - Steve Akinsol, ITLabsInMotion LLC
Take advantage of these opportunities to get the most out of your training:
Distinguish yourself as an information security leader by preparing for your GIAC Certification.
NEW: Take the completely revised FOR610: Reverse-Engineering Malware: Malware Analysis Tools and Techniques with Anuj Soni.
Network with like-minded security professionals facing similar challenges.
Attend evening bonus sessions led by SANS instructors and gain insight into the latest cyber security topics, including malware analysis and turning the tables on ransomware.
Extend your SANS course by four months with an OnDemand Bundle.
Register now and get practical training you can put to work immediately.
"This was one of the most beneficial trainings I have had yet as an information security analyst. It taught me how far I need to go, and what I need to focus on." - Ali S., USAF
To follow or tweet about this event, use hashtag #SANSBaltimore. Follow SANS at http://twitter.com/SANSInstitute