MGT512: SANS Security Leadership Essentials For Managers with Knowledge Compression™
Sold Out
Mon, October 15 - Fri, October 19, 2012
33 CPEs
Laptop Not Needed
It covers all areas of modern security, providing valuable knowledge to key aspects of the cyber security world @ work.

This course is 100% applicable to my work every day. Could not have designed a better course for someone in my situation; a new manager in cybersecurity risk.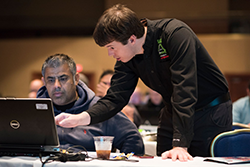 This completely updated course is designed to empower advancing managers who want to get up to speed quickly on information security issues and terminology. You won't just learn about security, you will learn how to manage security. Lecture sections are intense; the most common student comment is that it's like drinking from a fire hose. The diligent manager will learn vital, up-to-date knowledge and skills required to supervise the security component of any information technology project. Additionally, the course has been engineered to incorporate the NIST Special Publication 800 (series) guidance so that it can be particularly useful to US government managers and supporting contractors.
Essential security topics covered in this management track include: network fundamentals and applications, power, cooling and safety, architectural approaches to defense in depth, cyber attacks, vulnerability assessment and management, security policies, contingency and continuity planning, awareness management, risk management analysis, incident handling, Web application security, offensive and defensive information warfare, culminating with our management practicum. The material uses Knowledge Compression™, special charts, and other proprietary SANS techniques to help convey the key points of critical slides and keep the information flow rate at a pace senior executives demand every teaching hour of the course. The course has been evaluated and approved by CompTIA's CAQC program for Security + 2008 to ensure that managers and their direct reports have a common baseline for security terminology and concepts. You will be able to put what you learn into practice the day you get back into the office.
Establish a minimum standard for IT security knowledge, skills, and abilities. In a nutshell, this course covers all of the non-operating system topics that are in SANS Security Essentials, though not to the same depth. The goal is to enable managers and auditors to speak the same language as system, security, and network administrators.
Establish a minimum standard for IT management knowledge, skills, and abilities. I keep running into managers that don't know TCP/IP, and that is OK; but then they don't know how to calculate total cost of ownership (TCO), leaving me quietly wondering what they do know.
Save the up-and-coming generation of senior and rapidly advancing managers a world of pain by sharing the things we wish someone had shared with us. As the saying goes, it is OK to make mistakes, just make new ones.
Notice:
Please note that some course material for SEC 401 and MGT 512 may overlap. We recommend SEC 401 for those interested in a more technical course of study, and MGT 512 for those primarily interested in a leadership-oriented but less technical learning experience.
This course prepares you for the GSLC certification which meets the requirement of the DoD 8570 IAM Level 1, 2, 3.
This course features Knowledge Compression™
Course Syllabus
Additional Information
Thanks for a great class in Las Vegas! After taking your class I have been able to start the following projects:
-Two-Factor authorization for remote users.
-Web Filtering.
-Intrusion detection systems for our internet facing offices.
-Security awareness program.
Jerry Farnstrom
Information Security Manager
Long Term Care Group Inc.
All newly appointed information security officers
Technically skilled administrators that have recently been given leadership responsibilities
Seasoned managers that want to understand what your technical people are telling you
This course is taught MBA style and students are expected to be ready to work on the in-class exercises by preparing prior to the first day of instruction. When you enroll in MGT512, we suggest you review the following items before the course begins:
Author Statement
When SANS designed the Security Leadership for Managers course, we chose to emulate the format utilized by many executive MBA programs. While core source material is derived from our highly regarded SANS Security Essentials program, we decided to focus this program on the big picture of securing the enterprise: network fundamentals, security technologies, using cryptography, defense-in-depth, policy development, and management practicum. This course includes executive briefings designed to present a distilled summary of vitally important information security topics like operating system security and security threat forecasts. Ultimately, the goal of this program is to ensure that managers charged with the responsibility for information security can make informed choices and decisions that will improve their organization's security.