AUD307: Foundations of Auditing Security and Controls of IT Systems
Beta
Mon, February 3 - Wed, February 5, 2014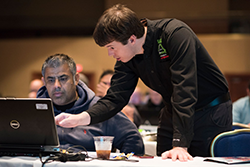 IT systems are fundamental to many of the controls that need to be audited for organizations today. It's important for auditors to have a foundational understanding of networks and systems and the controls that should be in place. During this course, we discuss the principles around IT controls, the primary regulatory drivers for IT audit, the audit process, and the primary IT audit controls that auditors should be aware of. Students will walk away with a foundational understanding of what an IT audit involves and be ready to participate in an IT audit with the guidance of an experienced IT auditor.
"* Note: This course is designed as an introduction for IT auditors that do not have an extensive technical background. It is designed to provide a foundation quickly for those that may not have a technical background.
You Will Learn:
The foundations of auditing IT controls.
A foundational understanding of network and system controls.
The regulatory drivers for IT audit and the audit process.
The controls that auditors must understand and know how to audit to properly audit IT.
Notice:
This course does not qualify for any additional discounts as it is being offered at a special beta rate in exchange for your feedback.
Course Syllabus
Tanya Baccam
,
Clay Risenhoover
Mon Feb 3rd, 2014
8:00 AM - 5:00 PM
---
Topics
Foundations
Types of Audit Risk
Major regulatory and industry drivers of IT audit
SOX, PCI, GLBA, HIPAA and more
SOC reports
IT audit frameworks
IT audit process
Audit objectives
Audit Preparation
Entrance meeting
Fieldwork
OSI model
Audit controls for networks
Firewalls
IDS
IPS
Tanya Baccam
,
Clay Risenhoover
Tue Feb 4th, 2014
9:00 AM - 5:00 PM
---
Topics
Policy
Physical Security Controls for Facilities
Physical Security Controls for Data Center
Encryption 101 for auditors
SOD Matrix for key IT positions
User and Access Management
User provisioning
User termination procedures
Log Management/SIEM
Software, SDLC and Change Control
Application Architecture
Databases
Development, Test and Production Environments
Tanya Baccam
,
Clay Risenhoover
Wed Feb 5th, 2014
9:00 AM - 5:00 PM
---
Topics
Business Continuity Planning
Disaster Recovery
Business Impact Analysis
Checklist for Auditing BCP
Configuration Management
Exit Meeting
Reporting
Reporting Limitations
Reporting Samples
Additional Information
Internal Auditors
IT Specialist Auditors
IT Auditors
IT Audit Manager
Information System Auditor
Information Technology Auditor
Information Security Officer
Financial Auditors
Operational Auditors
This course does not have any prerequsites.
Effectively conduct an IT audit.
Understand the key IT controls that should exist and why they are important.
Identify regulatory risks related to IT controls.
Conduct detailed audits of change control, business continuity planning and many more IT audit areas.
Courses that are good follow-ups
Author Statement
IT audit is now more important than ever. Businesses rely heavily on IT and the surrounding processes. With the pressures of regulatory compliance, protecting customer and business data, and remaining competitive in a tough business environment, todayâÂÂs organizations need to know that their information assets are managed and protected properly. IT auditors help to bridge the knowledge and understanding gap between management and IT operations, and are critical to ensuring the success of the organizations they serve. The exciting thing about this course is that itâÂÂs designed to provide students with the perfect mix of technical skills and real-world audit techniques. We teach students how to add value to their audits by selecting the right scope, identifying existing controls, testing technical controls properly and writing useful reports. Students will come away from this class ready to provide top-quality technical audit services to their employers and clients. -Tanya Baccam and Clay Risenhoover