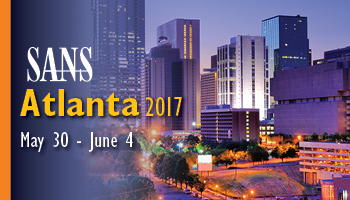 Training in the heart of Buckhead
7 hands-on information security courses taught by world-class instructors
Download the event brochure for course descriptions and instructor biographies
How Crypto Currencies & e-Payments are Breaking Up a Centuries-Old Monopoly with G. Mark Hardy
Information Security Training in Atlanta GA
Information security training in Atlanta from SANS Institute, the global leader in Cybersecurity training. At SANS Atlanta 2017, SANS offers hands-on, immersion-style security training courses taught by real-world practitioners and leading experts working in security today.
SANS hosts a new training event to downtown Atlanta on May 30-June 4. The campus for this event, the Grand Hyatt Atlanta in Buckhead, located on Peachtree Street, puts you in the heart of Atlanta's best shopping, dining, sports, and live music.
Learn the most effective steps to prevent attacks and detect adversaries with actionable techniques that you can directly apply when you get back to work. Take advantage of tips and tricks from the experts so that you can win the battle against a wide range of cyber adversaries who want to harm your digital environment. View the complete schedule here.
We are pleased to invite you to attend SANS training in the capital of the State of Georgia! We are bringing our top courses and top instructors to Atlanta on May 30- June 4. With only one in 1,200 candidates qualifying globally to join our faculty, SANS instructors are the foremost experts and the best at ensuring you will not only learn the material, but that you can also apply it immediately when you return from your training.
All of our courses at SANS Atlanta 2017 are associated with a GIAC Certification. Complete your SANS training experience with a GIAC certification attempt; put the skills you'll learn to practical use and join nearly 73,000 GIAC credentialed Information Security professionals worldwide.
Here is what our past attendees had to say about their SANS training experience: "The instructor was very engaging and fun to listen to; both his experience and ability to communicate the material." - Jason Popp, Nordstrom Inc. "With deep and intensive content, friendly instructor, and nice attendees it was definitely worth a trip from Japan." - Taraharu Ogasa "Don't change a thing. Best presenter I have ever had." - Rob Grewal, ICBC "A really awesome job with crypto. Best explanation I have heard without overloading on tech jargon." - Mike Lawrence, Protivit