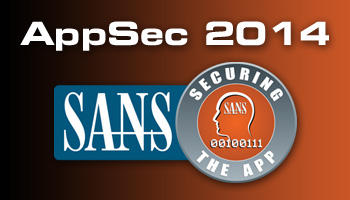 Welcome to AppSec 2014
3 courses
2 instructors
1 disciplines
SANS AppSec 2014 brings you four training courses that will help you find and fix critical vulnerabilities in your apps.
Hone your penetration skills in SEC542: Web Application Pentesting & Ethical Hacking
Understand critical vulnerabilities and defense strategies in DEV522: Defending Web Application Security Essentials
Build defensible applications in DEV541: Secure Coding in Java/JEE and DEV544: Secure Coding in .NET
In addition to these popular training courses AppSec 2014 provides evening Summit sessions where you can soak in the latest application security lessons from key industry leaders and practitioners at top companies.
Evening Summit sessions, which are complimentary with any class enrollment*, enable attendees to couple SANS technical training with engaging at night talks so you can maximize your learning and minimize time away from the office.
*All course registrations include attendance at the evening Summit sessions.
For non-students, a Summit-only pass may be purchased for $100.
Look forward to seeing you in Austin! Be sure to book a room early at the Omni Austin Downtown hotel in order to be in the heart of the SANS activities and enjoy the convenience and amenities of staying at the event hotel.