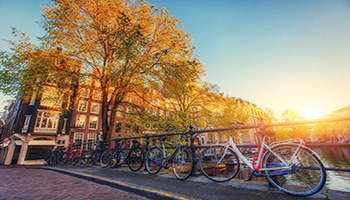 Welcome to Amsterdam 2016
4 courses
4 instructors
2 disciplines
Cyber Security Training At SANS Amsterdam 2016
SANS Amsterdam Training Event takes place on 12 - 17 December.
Choose from four intensive SANS Courses
Prepare for three GIAC Certifications: GCIH, GMON and GNSA.
Learn in a classroom environment, under the guidance of SANS Instructors.
This event will be billed without VAT.
Instructors Teaching At SANS Amsterdam 2016
The following SANS Instructors lead courses in Amsterdam:
Steve Armstrong - Steve began his security career in 1994, while serving in the RAF. While serving he led the Airforce's penetration and TEMPEST testing teams. Today he works in a security capacity with government departments and the entertainment industries.
Jonathan Ham - Jonathan specialises in large-scale enterprise security issues and has worked with many Federal agencies. He holds several GIAC Certifications and is a member of the GIAC Advisory Board.
Adrien de Beaupre - Adrien is a member of the SANS Internet Storm Centre and has worked with SANS since 2000. His expert experience includes technical instruction, vulnerability assessment, penetration testing, intrusion detection, incident response and forensic analysis.
David Hoelzer - David is a member of SANS Institute's Curriculum Committee, leads the Audit Curriculum and has authored many pieces of SANS courseware. David also served as a Director on the GIAC Certification programme.
Prove Skills - Get Certified
GIAC Certification proves cyber security skills and, as a result, GIAC Certification holders are sought by employers.
Many SANS Courses and GIAC Certifications align. During Amsterdam 2016, professionals can prepare for: GCIH, GMON and GSNA.
GIAC examination attempts and SANS OnDemand training bundles are available at a reduced rate when purchased with a course.