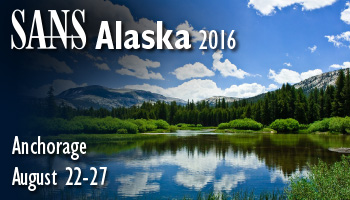 Welcome to Alaska 2016
2 courses
2 instructors
2 disciplines
SANS Alaska 2016, Alaska
Training Course Dates: August 22-27 2016
Securing our Organizations and Critical Infrastructures in Alaska!
SANS is bringing our renowned security training to Alaska! Join us in August for a week of hands-on training and compelling bonus sessions while taking in breathtaking views and experiencing the great Alaskan wilderness. SANS Alaska will feature two hands-on, immersion-style security training courses taught by real-world practitioners August 22-27, 2016 in Anchorage.
Take ICS/SCADA Security Essentials or Hacker Tools, Techniques, Exploits and Incident Handling during the day and join the SANS ICS team at night for special bonus sessions around protecting our critical infrastructures.
ICS Bonus Session:
What We All Need to Learn from the Attack on the Ukrainian Power Grid Speakers: Mike Assante
This talk will deconstruct the multi-faceted cyber-attacks against Ukraine's electricity infrastructure and provide mitigations. Multiple power outages resulted from a highly coordinated cyber operation against distribution utilities. We will examine media reports and official public sources, as well as map the attacks against the ICS Kill Chain. Learn how attackers developed an approach to hijack and maliciously operate the power system to create outages. The attacks included destructive elements to frustrate power restoration by denying use of the SCADA system and irreparably interrupting communication paths to sub-stations. This talk will provide important lessons learned and implications for any user (not just utilities) of Industrial Control System/Operational Technology.
Courses:
ICS410: ICS/SCADA Security Essentials: Instructor: Eric Cornelius
This course provides a foundational set of standardized skills and knowledge for industrial cybersecurity professionals. The course is designed to ensure that the workforce involved in supporting and defending industrial control systems is trained to keep the operational environment safe, secure, and resilient against current and emerging cyber threats.
SEC504: Hacker Tools, Techniques, Exploits and Incident Handling: Instructor: Mick Douglas
This course provides a time-tested, step-by-step process for responding to computer incidents, and a detailed description of how attackers undermine systems so you can prepare, detect, and respond to them. By helping you understand attackers' tactics and strategies in detail, giving you hands-on experience in finding vulnerabilities and discovering intrusions, and equipping you with a comprehensive incident handling plan, this course helps you turn the tables on computer attackers.