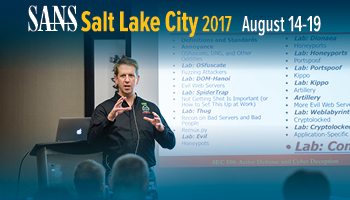 Train in beautiful Utah
Choose from 7 hands-on information security courses aimed at all types of professionals
Attend the keynote: Current and Future Trends in Digital Investigative Analysis with Ovie Carroll
Advance your career and develop skills to better protect your organization
Information Security Training in Salt Lake City, UT
As cybersecurity threats change daily and attacks become more aggressive, SANS helps you stay ahead of the curve by providing unique, hands-on immersion training you can implement the day you return to work. SANS Salt Lake City 2017 (August 14-19), you will learn new skills to help you better anticipate security risks and quickly mitigate them.
"SANS provides high intensity training and material that can be applied immediately upon returning to work." - Paul Mudgett, Nevada System of Higher Education
Take advantage of these opportunities to get the most out of your training:
Distinguish yourself as an information security leader by preparing for your GIAC Certification.
Network with like-minded security professionals facing similar challenges.
Attend evening bonus sessions led by SANS instructors and gain insight into the latest cybersecurity topics, including the dark web and a new pen test platform for control networks.
Extend your SANS course by four months with an OnDemand Bundle.
Register for training from the industry's top cybersecurity practitioners, and learn to more effectively combat the growing wave of breaches and cyber-attacks.
"The experience, professionalism and presentation of the speakers, along with the structured and relevant training with hands-on labs make SANS the premier InfoSec training opportunity." - Jason Cathey, Bank of the Ozarks
To follow or tweet about this event, use hashtag #SANSSLC. Follow SANS at http://twitter.com/SANSInstitute