The CIS Critical Security Controls for Effective Cyber Defense
The CIS Critical Security Controls are a recommended set of actions for cyber defense that provide specific and actionable ways to stop today's most pervasive and dangerous attacks. A principal benefit of the Controls is that they prioritize and focus a smaller number of actions with high pay-off results. The Controls are effective because they are derived from the most common attack patterns highlighted in the leading threat reports and vetted across a very broad community of government and industry practitioners. They were created by the people who know how attacks work - NSA Red and Blue teams, the US Department of Energy nuclear energy labs, law enforcement organizations and some of the nation's top forensics and incident response organizations - to answer the question, "what do we need to do to stop known attacks." That group of experts reached consensus and today we have the most current Controls. The key to the continued value is that the Controls are updated based on new attacks that are identified and analyzed by groups from Verizon to Symantec so the Controls can stop or mitigate those attacks.
The Controls take the best-in-class threat data and transform it into actionable guidance to improve individual and collective security in cyberspace. Too often in cybersecurity, it seems the "bad guys" are better organized and collaborate more closely than the "good guys." The Controls provide a means to turn that around.
SANS Supports the CIS Critical Security Controls with Training, Research and What Works
To support information security practitioners and managers implement the CIS Critical Security Controls, SANS provide a number of resources and information security courses.
Critical Security Controls Courses
Security Operations Center Courses
Information Security Resources
CIS Critical Security Controls - Version 7.1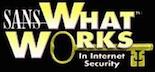 The SANS "What Works" program highlights success stories in cybersecurity - real examples of how real security teams have made measurable improvements in the effectiveness and efficiency of their security controls. While most of the press coverage focuses on breaches and other security failures, there are thousands of cybersecurity leaders quietly working hard and make advances against threats while enabling business and mission needs.
SANS expert John Pescatore interviews the end user and decision maker and produces a Q&A formatted case study and a live webcast that allows security practitioners to take advantage of lessons learned and accelerate their own cybersecurity improvements.
Check out recent SANS WhatWorks case studies:
Case Studies
| | | |
| --- | --- | --- |
| A Credit Union Increased Network Security With Network Access Control Based on Great Bay Software Beacon | Great Bay Software | August 4, 2016 |
| What Works in Threat Prevention: Detecting and Stopping Attacks More Accurately and Quickly with ThreatSTOP | ThreatSTOP | May 16, 2016 |
| Inspecting Encrypted Traffic with the Blue Coat SSL Visibility Appliance | Blue Coat | Mar. 23, 2016 |
| What Works in Supply Chain and Partner Security: Using BitSight to Assess and Monitor Third-Party Cybersecurity | BitSight | Nov. 7, 2015 |
| Using WhiteHat Sentinel Dynamic and Static Solutions to Increase Application Security Before and After Production Deployment | WhiteHat Security | Oct. 9, 2015 |
| Lifecycle Vulnerability Management and Continuous Monitoring with Rapid7 Nexpose | Rapid7 | Sept. 15, 2015 |
| Using Palo Alto Networks Next Generation Firewalls to Increase Visibility into Threats and Reduce Threat Risks | Palo Alto Networks | May 19, 2015 |
| Blocking Complex Malware Threats at Boston Financial | Invincea | Mar. 27, 2015 |
| Increasing Security and Reducing Costs by Managing Administrator Rights with Process-based Privilege Management | Viewfinity | Mar. 27, 2015 |
| Reaping the Benefits of Continuous Monitoring and Mitigation at Pioneer Investments | ForeScout | Mar. 27, 2015 |
| How VCU uses FireEye for Advanced Threat Detection and Prevention | FireEye | Mar. 10, 2015 |
| Increasing Vulnerability Management Effectiveness While Reducing Cost | Tenable | Feb. 19, 2015 |