Notice
Please note that early bird discounts do not apply to Hosted courses.
Certified Secure Software Lifecycle Professional (CSSLP®) CBK® Training Seminar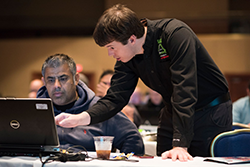 This course will help you advance your software development expertise by ensuring you're properly prepared to take on the constantly evolving vulnerabilities exposed in the SDLC. It will train you on every phase of the software lifecycle detailing security measures and best practices for each phase. The CSSLP® Training Seminar is for all the stakeholders involved in software development. By taking this course, not only will you enhance your ability to develop software with more assurance you will understand how to build security within each phase of the software lifecycle.
The comprehensive (ISC)2 CSSLP® CBK® Training Seminar covers the following domains:
Course Syllabus
Software Architects
Software Engineers/Designers
Software Development Managers
Requirements Analysts
Project Managers
Business and IT Managers
Auditors
Developers and Coders
Security Specialists
Auditors and Quality Assurance Managers
Application Owners
(ISC)2 is the largest not-for-profit membership body of certified information security professionals worldwide, with over 70,000 members in more than 135 countries. Globally recognized as the Gold Standard, (ISC)2 issues the Certified Information Systems Security Professional (CISSP®) and related concentrations, as well as the Certified Secure Software Lifecycle Professional (CSSLP®), Certified Authorization Professional (CAP®), and Systems Security Certified Practitioner (SSCP®) credentials to qualifying candidates. (ISC)2's certifications are among the first information technology credentials to meet the requirements of ANSI/ISO/IEC Standard 17024. (ISC)2offers education programs and services based on its CBK®, a compendium of information security topics. For more information, visit the (ISC)2 web site.
Additional Resources
Take your learning beyond the classroom. Explore our site network for additional resources related to this course's subject matter.
*CPE/CMU credits not offered for the SelfStudy delivery method