Notice
Please note that early bird discounts do not apply to Hosted courses.
High Tech Crimes and Insider Threats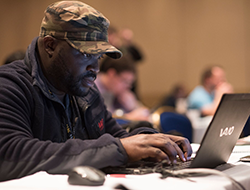 You Will Learn:
The types of high tech crimes and how to recognize them.
How to build policies that will allow your organization to effectively investigate suspicious activities
How to assess risk of insider threats, and build mitigating controls.
How to conduct a basic investigation without destroying critical evidence.
How to work with Law Enforcement to reduce the business impact of criminal investigations.
Course Syllabus
HST.1: Introduction and Concepts
Topics
Threat landscape
All about insiders and the Threats they pose
Warning Signs: What to look for
Incident Response: A Policy approach
Investigation Concepts
Working with Law Enforcement
Investigation Tools
HST.2: Putting it all together
Topics
Incident Response Scenarios
Detection and Mitigation Strategies
Evidence Collection 101
Basic Evidence Analysis
Special issues with Insiders
Additional Information
Laptop not required, but strongly suggested. Supplementary materials will require a Windows based workstation or VM.
If you have additional questions about the laptop specifications, please contact laptop_prep@sans.org.
Systems and Network Administrators
Internal Auditors and Investigators
Information Security Policy Professionals
Have familiarity with basic information security concepts
Have basic understanding of network engineering
Have basic understanding of system administration for Windows computers.
Downloadable forensic images containing examples of common nefarious insider activity and crime activity.
Demo licenses for software used in the examples.
A printed class manual
Help your organization define its high risk areas for insider threats .
Design detection methods for illicit insider access.
Build a best practices policy for incident response.
Implement policies for working with local law enforcement resources.
Safely and correctly collect electronic evidence.
Perform basic analysis of electronic evidence.
Work successfully with local law enforcement.
Brief stakeholders on current and foreseeable threats.
*CPE/CMU credits not offered for the SelfStudy delivery method