SEC542: Web App Penetration Testing and Ethical Hacking
SEC542 is an excellent starting point for someone interested in web app security.

SEC542 is high-quality training that I can apply to my job right away. The labs in this class are the best I've encountered so far.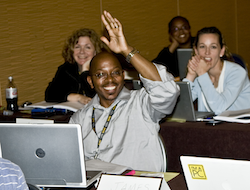 Web applications play a vital role in every modern organization. But, if your organization does not properly test and secure its web apps, adversaries can compromise these applications, damage business functionality, and steal data. Unfortunately, many organizations operate under the mistaken impression that a web application security scanner will reliably discover flaws in their systems.
SEC542 helps students move beyond push-button scanning to professional, thorough, high-value web application penetration testing.
Customers expect web applications to provide significant functionality and data access. Even beyond the importance of customer-facing web applications, internal web applications increasingly represent the most commonly used business tools within any organization. Unfortunately, there is no "patch Tuesday" for custom web applications, so major industry studies find that web application flaws play a major role in significant breaches and intrusions. Adversaries increasingly focus on these high-value targets either by directly abusing public-facing applications or by focusing on web apps as targets after an initial break-in.
Modern cyber defense requires a realistic and thorough understanding of web application security issues. Anyone can learn to sling a few web hacks, but effective web application penetration testing requires something deeper.
SEC542 enables students to assess a web application's security posture and convincingly demonstrate the impact of inadequate security that plagues most organizations.
Students will come to understand major web application flaws and their exploitation and, most importantly, learn a field-tested and repeatable process to consistently find these flaws and convey what they have learned to their organizations. Even technically gifted security geeks often struggle with helping organizations understand risk in terms relatable to business. Much of the art of penetration testing has less to do with learning how adversaries are breaking in than it does with convincing an organization to take the risk seriously and employ appropriate countermeasures. The goal of SEC542 is to better secure organizations through penetration testing, and not just show off hacking skills. The course will help you demonstrate the true impact of web application flaws through exploitation.
In addition to high-quality course content, SEC542 focuses heavily on in-depth, hands-on labs to ensure that students can immediately apply all they learn.
In addition to more than 30 formal hands-on labs, the course culminates in a web application pen test tournament, powered by the SANS NetWars Cyber Range. This Capture the Flag event on the final day brings students into teams to apply their newly acquired command of web application penetration testing techniques in a fun way to hammer home lessons learned.
Course Topics
Interception Proxies

ZAP (Zed Attack Proxy)
Burp Suite

SQL Injection
Blind SQL Injection
Reflected Cross-Site Scripting (XSS)
Stored Cross-Site Scripting (XSS)
Local File Inclusion (LFI)
Remote File Inclusion (RFI)
Cross-Site Request Forgery (CSRF/XSRF)
You Will Learn:
To apply a repeatable methodology to deliver high-value penetration tests.
How to discover and exploit key web application flaws.
How to explain the potential impact of web application vulnerabilities.
The importance of web application security to an overall security posture.
How to wield key web application attack tools more efficiently.
Course Syllabus
Additional Information
Security 542 requires a Windows, Linux or Macintosh computer with the following minimum hardware requirements:
CPU: 2.0+ processor
RAM: 4 GB or higher
20 GB free hard disk space
USB port
Ethernet adapter (A wired connection is required in class. If your laptop supports only wireless, please make sure to bring an Ethernet adapter with you.)
Please install the following software on the computer:
VMware Workstation 9, Player 5, or Fusion 5 (or newer)
You must have the ability to disable the host firewall (Windows firewall or other third-party firewall), antivirus programs, or other security software running on your desktop. This usually means you need to have administrative privileges on the machine.
DO NOT plan on just killing your antivirus service or processes, because most antivirus tools still function even when their associated services and processes have been terminated.
If you have additional questions about the laptop specifications, please contact laptop_prep@sans.org.
General security practitioners
Penetration testers
Ethical hackers
Web application developers
Website designers and architects
Use this sample training request letter, or elements of it, to justify the time and budget required to complete SANS training to your manager. Simply copy and paste text into an email to your manager, then make any necessary adjustments to personalize the information.
SEC542 assumes students have a basic working knowledge of the Linux command line.
Other Courses People Have Taken
Course media that includes both web application attack tools, as well as many vulnerable web applications for testing and training within the classroom and beyond
Audio recordings of the course to review material after class
A custom virtual machine tailored specifically for web application penetration testing
Apply a detailed, four-step methodology to your web application penetration tests: reconnaissance, mapping, discovery, and exploitation.
Analyze the results from automated web testing tools to validate findings, determine their business impact, and eliminate false positives.
Manually discover key web application flaws.
Use Python to create testing and exploitation scripts during a penetration test.
Discover and exploit SQL Injection flaws to determine true risk to the victim organization.
Create configurations and test payloads within other web attacks.
Fuzz potential inputs for injection attacks.
Explain the impact of exploitation of web application flaws.
Analyze traffic between the client and the server application using tools such as the Zed Attack Proxy and Burp Suite to find security issues within the client-side application code.
Manually discover and exploit Cross-Site Request Forgery (CSRF) attacks.
Use the Browser Exploitation Framework (BeEF) to hook victim browsers, attack client software and the network, and evaluate the potential impact that XSS flaws have within an application.
Perform a complete web penetration test during the Capture the Flag exercise to bring techniques and tools together into a comprehensive test.
SANS SEC542 employs hands-on labs throughout the course to further students' understanding of web application penetration concepts. Some of the many hands-on labs in the course include:
Assessing Web Authentication
Heartbleed Exploitation
Mobile Application MITM
Reflective XSS Attacks
Persistent XSS Attacks
SQL Injection
Blind SQL Injection
CSRF Exploitation
Metasploit for Web Application Attacks
Exploiting Shellshock
Leveraging the sqlmap tool
BeEF and Browser Exploitation
Session Hijacking
Username Harvesting
HTML Injection
Remote File Inclusion
Local File Inclusion
OS Command Injection
Drupalgeddon Exploitation
w3af
Python for Web Application Pen Testers
Pen Testing with JavaScript
Extensive use of both Burp Suite and ZAP throughout the course
"This course taught me to truly focus on the methodology while performing a pen test. During the Capture the Flag event, I realized how much time can be wasted if you fail to respect your methodology." - Sean Rosado, RavenEye
"The SEC542 tools and course presentation are top-notch. I will be using this material extensively." - Jeremy Pierson, Academy Mortgage
"SEC542 provides rapid exposure to a variety of tools and techniques invaluable to recon on target site." - Gareth Grindle, QA Ltd.
"With the infinite tools used for web application penetration, SEC542 helps you understand/use the best tools for your environment." - Linh Sithihao, UT South Western Medical Center
"Every class gives you invaluable information from real-world testing you cannot find in a book." - David Fava, The Boeing Company
Author Statement
Students routinely show up to SEC542 having been demoralized by their organization's web application vulnerability scanner. Sitting on the business end of these scanners, students regularly attest to 1,000+ pages of output littered with false positives. One of the most rewarding aspects of teaching SEC542 is seeing and hearing those very same students' enthusiasm for applying the skills they have learned through the week to the applications they are responsible for securing. They intrinsically knew the push-button approach to penetration testing was failing them, but lacked the knowledge and skill to ably and efficiently perform any other style of assessment. We are happy to say that SEC542 remedies this problem. Students walk away from class with a deep knowledge of key web application flaws and how to discover and exploit them, as well as how to present these findings in an impactful way. - Seth Misenar and Eric Conrad
Venue Information
Asurion

300 2nd Ave South
Nashville, TN 37201 US
Reservation Information
Recommended Hotels in the Area:

Hyatt Place Downtown Nashville
Address:301 3rd Avenue South, Nashville, TN 37201

Hilton Garden Inn Downtown Nashville
Address:305 Korean Veterans Boulevard, Nashville, TN 37201

Omni Nashville Hotel
250 5th Ave South, Nashville, TN 37203

Please check http://www.fedrooms.com for Government Per Diem availability in the area. Note, you may need to reserve your accommodations online (http://www.fedrooms.com) as these rates may not be available by contacting the hotel directly. However, if not available online, please feel free to contact the hotel directly.