SEC464: Hacker Guard: Security Baseline Training for IT Administrators and Operations with Continuing Education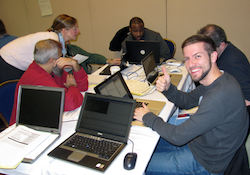 There are not enough well trained IT administrators and operations staff to meet the daily onslaught of cyber criminal and cyber terrorist activities. Sandia National Labs, NASA, and the State of Texas recently demonstrated that we can address this issue by leveraging the large number of IT admins within an organization to act as a hacker guard to help thwart many of these attacks. The goal is to have IT administrators in an organization serve as the first line of defense as human intrusion detectors.
This is an important challenge for organizations because perimeters are routinely being breached, and attackers often roam through networks for weeks or months on end, often without discovery. This new approach, pioneered by organizations such as Sandia Labs, NASA and the State of Texas, is a unique training program for IT operations and admins that teaches them how to:
Discover evidence of intruder activity
Demonstrate how to work effectively with their organization's security professionals and
Provide tools that they can put to work immediately
It's the first security program that is tuned directly to the interests of IT administrators and establishes a clear entry career path from a system admin to security professional.
Why bad things happen to good IT admins: 5 common mis-configurations and mistakes that lead to a system being compromised
Security methodology and thought process in daily systems administration activities
An IT administrator's view of what matters in systems architectures
Security monitoring: Not knowing makes the auditors and hackers happy
The hard part - knowing what is normal for Windows and Unix systems
The harder part - knowing what is abnormal for Windows and Unix systems
Hardening Windows and Unix systems is easier than you thought
Command line kung fu for Unix and Windows
Understanding network traffic for systems administrators
Malware: Why it is still effective in your environment
Here is what other IT administrators and operations staff have to say about the Hacker Guard Training:
I've been waiting for this type of course to come from SANS so I could get task-specific security training for sysadmins. - Tom Siu, Case Western Reserve University
This course fills the gap that all other server administrative courses lack; not only how to set it up securely, but the anomalies related to the insecurities. - Richard Spanfelner, CA Franchise Tax Board
This is an excellent course and should be a requirement for all our IT admins - not to mention at least some of our business partners and higher members of the IT food chain to influence the importance of this work. - Bob Timberlake, University of Kansas
This educational program gives IT admins the tools and techniques to illuminate evidence of potentially malicious activity on their systems and to look deeper to determine whether the problems they see are real. It allows them to become the hacker guards for malicious activity in their organization. It uses hands-on exercises to ensure they are comfortable using the tools.
Attack vectors are constantly changing and, therefore, the program does not stop with the first class. It continues with quarterly Combating Current Threats online training briefings. These show the newest attacks and how the information from the quarterly training, together with the tools and techniques learned in class and in previous quarterly briefings, might be adjusted to target these newest attacks. The introductory two-day class will be updated to reflect the changes highlighted in these quarterly briefings, so systems administrators who enter the Hacker Guard Program later will get the most up-to-date material.
Also, because attackers are increasingly focusing on database and application software, the program will include a growing library of up-to-date modules on Detecting the Wiley Hacker in specific software applications and websites.
Hacker Guard: Security Baseline Training for IT Administrators and Operations - Introductory Two-Day Class
IT operations and administrators are at the front line of any security architecture. They also know the systems that they manage on a daily basis better than anyone else. However, most systems administrators are NOT security professionals. Making the assumption that they are often leads to many of the security related issues organizations face today.
This course is not designed to turn an admin into a security geek. But rather, it will help administrators better understand what security teams and auditors require and turn them into the hacker guards for malicious activity.
The course also focuses strongly on developing the tools and techniques that an IT administrator would need to meet audit and security requirements in as efficient a manner as possible. In summary, this class provides the tools and techniques to bridge the gap and help systems administrator teams meet the needs of security and audit teams - and still do their day jobs.
Course Syllabus
SEC464.1: Why are we losing
---
Topics
Day 1.1 Class Goal:
Know our systems better by baselining
Know when we have deviations from the baselines
Understand how to communicate your findings with the Security team
Prepare you to survive an audit/pen test
Teach some cool tricks that will help you in your regular job
Scare you
Day 1.2 Security Architecture
Security Team and Operations Team
Day 1.3 Risk and the 20 Critical Controls
#1 Attack vector is your browser
Day 1.4 Know Your Network
Day 1.5 Malware
Day 1.5.1 Malware Exploits to By-Pass traditional Defenses
Day 1, Lab 1 Malware Lab: mspfayload
Day 1.6 Incident Response
Policies and Procedures prior to incidents occuring
Knowing What is Normal - Baselining
Secure Configurations
Open Source Resources
Windows Cheat Sheet for securing the Browser
Checking Tasks
Day 1, Lab 2 Building a Baseline Script
Day 1.7 Windows Management with SMS and SCCM
Discussion of powerful functionality from Microsoft
Day 1.8 The 20 Critical Controls: Inventory of Authorized and Unauthorized Software
The 20 Cricial Controls: Inventory of Authorized and Unauthroized Devices
Day 1, Lab 3 Evil - Not Evil
Day 1.9 Windows Logging
The 20 Critical Controls: Maintenance, Monitoring and Analysis of Audit Logs
Critical Logs
Day 1.10 Controlled Access Based on "Need to Know"
Day 1.11 The 20 Critical Controls: Data Loss Prevention
Day 1.11.1 Unauthorized Changes to User Groups and Services
Day 1.12 Windows Log Management
Day 1.13 Command Line in Depth - WMIC
Day 1.3.1 Importance of the Windows Command Line Interface (CLI)
Day 1, Lab 4 WMIC and netsh Lab
Summary of Day 1 Your Turn to Think Like a Hacker
Day 1, Lab 5
SEC464.2: Security for System Administrators
---
Topics
Day 2.1 System Monitoring
Nagios
EZNAG
OSSEC
OSSIM
Why are these tools valuable to System Administrators
Day 2, Lab 1 Monitoring Lab
Day 2.2 Linux
Day 2.2.1 Establish what is Normal, Just like Day 1 Windows
Day 2.2.2 DISA Security Readiness Review
Day 2.2.3 Linux Cheat Sheet
Day 2.2.4 Looking for the unusual
Day 2.3 The 20 Critical Controls: Unauthorized Changes to Users, Groups and Services
Day 2, Lab 2: Linux Cheat Sheet and Logs
Day 2.4 What is a Honeypot
Day 2.4.1 Why do we use Honeypots?
Day 2.4.2 Open Source Tools for setting up Honeypots
Day 2, Lab 3 LAB: HoneyPorts
Day 2.5 Network Traffic
Day 2.5.1 Special Note re: Permission to use these tools on your network
Day 2.5.2 Network Monitoring tools: Snort, Ntop, Wireshark
Day 2, Lab 4: LAB: Network Baseline
Day 2.6 Understanding what is normal network traffic behavior
Day 2.5.1 Knowing what is Abnormal
Day 2: Lab 5 The Not_Normal Lab
Day 2.7 Communicate with the Incident Response Team
Day 2.8 Scenario: Kobayashi Maru - A starfleet exercise
Day 2: Lab 6 Kobayashi Maru Team Lab
Day 2 Conclusions
Additional Information
Very useful for me as a systems administrator. Some of the information I have seen in another SANS class (SEC504), but this is more focused on what I encounter day-to-day - Dustin Odya, Indiana University
LAPTOP REQUIRED
IMPORTANT - BRING YOUR OWN LAPTOP WITH WINDOWS
To get the most value out of the course, students are required to bring their own laptop so that they can connect directly to the workshop network that we will create. It is the students' responsibility to make sure that the system is properly configured with all drivers necessary to connect to an Ethernet network.
Some of the course exercises are based on Windows, while others focus on Linux. VMware Player or VMware Workstation is required for the class. If you plan to use a Macintosh, please make sure you bring VMware Fusion, along with a Windows guest virtual machine.
Windows
You are required to bring Windows 7 (Professional or Ultimate), Windows Vista (Business or Ultimate), Windows XP Pro, or Windows 2003 or 2008 Server, either a real system or a virtual machine. Windows 7 Home, Windows Vista Home, Windows XP Home, and Windows 2000 (all versions) will NOT work for the class as they do not include all of the built-in capabilities we need for comprehensive analysis of the system.
The course includes a VMware image file of a guest Linux system that is larger than 2 GB. Therefore, you need a file system with the ability to read and write files that are larger than 2 GB, such as NTFS on a Windows machine.
IMPORTANT NOTE: You will also be required to disable your anti-virus tools temporarily for some exercises, so make sure you have the anti-virus administrator permissions to do so. DO NOT plan on just killing your anti-virus service or processes, because most anti-virus tools still function even when their associated services and processes have been terminated. For many enterprise-managed clients, disabling your anti-virus tool may require a different password than the Administrator account password. Please bring that administrator password for your anti-virus tool.
Enterprise VPN clients may interfere with the network configuration required to participate in the class. If your system has an enterprise VPN client installed, you may need to uninstall it for the exercises in class.
VMware
You will use VMware to run Windows and Linux operating systems simultaneously when performing exercises in class. You must have either the free VMware Player 3 or later or the commercial VMware Workstation 6 or later installed on your system prior to coming to class. You can download VMware Player for free at www.vmware.com.
Alternatively, if you want a more flexible and configurable tool, you can download a free 30-day trial copy of VMware Workstation from www.vmware.com. VMware will send you a time- limited license number for VMware Workstation if you register for the trial at their Web site. No license number is required for VMware Player.
We will give you a DVD full of attack tools to experiment with during the class and take home for later analysis. We will also provide a Linux image with all of our tools pre-installed that runs within VMware Player or VMware Workstation.
Linux
You do not need to bring a Linux system if you plan to use our Linux image in VMware. However, you are required to bring VMware Workstation or VMware Player. The class does not support VirtualPC or other non-VMware virtualization products.
Mandatory Laptop Hardware Requirements
x86- or x64-compatible 1.5 Ghz CPU Minimum or higher
DVD Drive (not a CD drive)
2 GigaByte RAM minimum with 4 GB or higher recommended
Ethernet adapter (A wired connection is required in class. If your laptop supports only wireless, please make sure to bring an Ethernet adapter with you)
10 GigaByte available hard drive space
Any Service Pack level is acceptable for Windows XP Pro, 2003, Vista, or Win7 .
By bringing the right equipment and preparing in advance, you can maximize what you'll see and learn as well as have a lot of fun.
If you have additional questions about the laptop specifications, please contact laptop_prep@sans.org.
IT administrators who interact on a regular basis with their security team or with an auditor.
Any IT operations staff or administrators who are curious about the things security teams require.
Continuing Education Briefings
Our contributing customers have told us that good training needs to be continuous and current. This is the core-learning objective of the introductory two-day class. Students will be able to leverage and apply what they have learned to real-life situations as they arise. Therefore, the introductory two-day class will be followed by a minimum of four Quarterly Combating Current Threats webinars, which are included in the initial training fee.
SANS has always promised that what you learn in class today can be applied in your job tomorrow. With this continuous education approach, our instructors will actually show students how to apply the key learning objectives at a minimum of once every three months. This is hands-on training that is fresh and relevant. These updates will be delivered via live Webcast by course author John Strand. It is highly recommended that students utilize this continuing education option to ensure their knowledge is constantly updated to the latest threat vectors.
Students who have entered the Hacker Guard Program will have the option to continue the Quarterly Threat briefings through payment of an annual fee once they have completed their first four quarterly briefings.
Author Statement
Throughout the course of my career I have worked with many organizations where systems administrators feel that they are forced to take action on behalf of security or a compliance requirement. They have expressed concerns to me that they don't understand why they have to do certain security hardening activities. Worse, they feel like their own security team doesn't have a full understanding of why they do what they do on behalf of security.
This class is designed to help the systems and network administrators of an environment understand what it is that they need to do to meet security and audit requirements so they can get back to doing their job of keeping the environment running.
- John Strand