AUD507: Auditing Networks, Perimeters, and Systems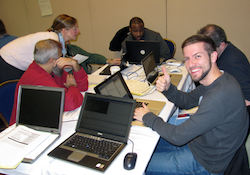 One of the most significant obstacles facing many auditors today is how exactly to go about auditing the security of an enterprise. What systems really matter? How should the firewall and routers be configured? What settings should be checked on the various systems under scrutiny? Is there a set of processes that can be put into place to allow an auditor to focus on the business processes rather than the security settings? All of these questions and more will be answered by the material covered in this course.
This track is organized specifically to provide a risk driven method for tackling the enormous task of designing an enterprise security validation program. After covering a variety of high level audit issues and general audit best practice, the students will have the opportunity to dive deep into the technical "how to" for determining the key controls that can be used to provide a level of assurance to an organization. Tips on how to repeatably verify these controls and techniques for continuous monitoring and automatic compliance validation will be given from real world examples.
One of the struggles that IT auditors face today is assisting management to understand the relationship between the technical controls and the risks to the business that these affect. In this course these threats and vulnerabilities are explained based on validated information from real world situations. The instructor will take the time to explain how this can be used to raise the awareness of management and others within the organization to build an understanding of why these controls specifically and auditing in general is important. From these threats and vulnerabilities, we will explain how to build the ongoing compliance monitoring systems and how to automatically validate defenses through instrumentation and automation of audit checklists.
A Sampling of Topics
Audit planning and techniques
Effective risk assessment for control specification
Firewall and perimeter auditing
A proven six-step audit process
Time based auditing
Effective network population auditing
How to perform useful vulnerability assessments
Uncovering "Back Doors"
Building an audit toolkit
Detailed router auditing
Technical validation of network controls
Web application auditing
Audit Tools
You'll be able to use what you learn the day you get home. Five of the six days in the track will either produce or provide you directly with a general checklist that can be customized for your audit practice. Each of these days includes hands-on exercises with a variety of tools discussed during the lecture sections so that you will leave knowing how to verify each and every control described in the class and know what to expect as audit evidence. Each of the five hands on days gives you the chance to perform a thorough technical audit of the technology being considered by applying the checklists provided in class to sample audit problems in a virtualized environment. Each student is invited to bring her own Windows 7 Professional 64 bit or higher laptop for use during class. The ideal laptop will have at least 4 gigabytes of RAM. Laptops with less memory will function for the majority of the exercises, though one or two may be impossible to accomplish with less memory. Macintosh computers running OS X may also be used with VMware Fusion.
A great audit is more than marks on a checklist; it is the understanding of the what the underlying controls are, what the best practices are and why. Sign up for this course and experience the mix of theory, hands-on, and practical knowledge.
Course Syllabus
Additional Information
Audit 507 requires that you bring a fairly modern laptop running 64 bit Windows 7 Business (or higher) operating system. Your computer should additionally have a minimum of 2 gigabytes of RAM. A computer not meeting the RAM and operating system requirements will not be able to run all of the hands-on exercises. Your computer will need a DVD drive and a wireless adapter for you to participate in the exercises in class.
Your laptop must be capable of running the most current version of VMware Player (http://www.vmware.com/products/player/). It is strongly advised that you attempt to download and install VMware Player before coming to class to verify that your laptop can indeed run it successfully.
It is absolutely necessary that you have full administrative rights on your computer for this class. We would strongly recommend that you work with your help desk to have a clean laptop built for the purpose of attending this class. Full administrative rights means that you will need the ability to install software, change system settings, manipulate the registry, possibly disable antivirus, etc. Of course, you can meet this requirement by bringing a laptop with VMware Player already installed and a Windows XP or higher virtual machine installed inside of a virtual machine to which you have full and complete access.
If you have additional questions about the laptop specifications, please contact laptop_prep@sans.org.
Auditors seeking to identify key controls in IT systems
Audit professionals looking for technical details on auditing
Managers responsible for overseeing the work of an audit or security team
Security professionals newly tasked with Audit responsibilities
System and Network Administrators looking to better understand what an auditor is trying to achieve, how they think and how to better prepare for an audit
System and Network Administrators seeking to create strong change control management and detection systems for the enterprise
Understand the different types of controls (e.g., technical vs. non-technical) essential to performing a successful audit
Conduct a proper risk assessment of network to identify vulnerabilities and prioritize what will be audited
Establish a well-secured baseline for computers and networks, a standard to conduct audit against
Perform a network and perimeter audit using a seven step process
Audit firewalls to validate that rules/settings are working as designed, blocking traffic as required
Utilize vulnerability assessment tools effectively to provide management with the continuous remediation information necessary to make informed decisions about risk and resources.
Audit web application's configuration, authentication, and session management identify vulnerabilities attackers can exploit
Utilize scripting to build a system to baseline and automatically audit Active Directory and all systems in a Windows domain
Author Statement
The SANS Advanced Systems Audit track stands alone in the Information Assurance arena as the only comprehensive source for hands on audit "How To." Past students have included long time auditors and those new to the field, both of whom have found significant benefit from the refresher material. One individual, a vice president with the IIA (Institute of Internal Auditors) said, "I've been auditing systems for a very long time and no one ever actually gave me a formal process that I can apply to conducting technical audits. Thank you!" While we don't require a high level of technical experience as a prerequisite to this course, we have worked hard to make sure that anyone who comes to the course walks away with a wealth of material that they can go back to their office and apply tomorrow. We realistically address the "How do I get there from here?" problem by offering short-term goal solutions which, when combined, will allow you to achieve your goal: identify, report on and reduce risk in your enterprise. - David Hoelzer
Venue Information
Hyatt Place

5040 Valley View Blvd North, NW.
Roanoke, VA 24012 US

Phone:

540-366-4700

Fax:

540-366-1157

Web:

Hyatt Place
Reservation Information
A block of rooms has been reserved for SANS attendees at a special rate of $105. Reservations must be made directly with the the hotel via telephone at 540-366-4700 by December 20. Group code: G-SANS. All reservations after this date are subject to rate and space availability. We also encourage you to check rates online.