AUD445: Auditing Security and Controls of Oracle Databases
Beta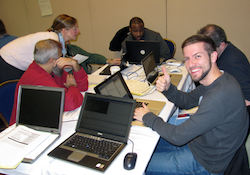 * Updated and includes Oracle 12c!
Over the past few years we have seen attackers target data since there is a financial incentive to being able to compromise valuable data. The media seems to be reporting new data compromises constantly. That means auditors need to be effectively auditing the controls that should exist to protect this valuable organizational asset.
Oracle Databases often store the data that's being targeted. Oracle Databases are very complex and challenging to audit! Auditors need to be able to effectively audit the processes and controls in place around the database to ensure the asset is being properly protected and the risks properly managed.
This course provides all of the details, including the IT process, procedural and technical controls, that you as an auditor should look for when conducting an Oracle database audit. Even better, you have the opportunity to get firsthand experience extracting and interpreting data from a live Oracle Database which allows you to be able to return and immediately conduct an Oracle Database audit. By getting hands-on experience, you get a better understanding of exactly how an Oracle Database operates and what data is available for audit purposes. The course is also put together in such a way that you can add additional value to the business and provide further security recommendations and benefits for the database being audited.
Course Syllabus
Tanya Baccam
Mon Feb 11th, 2013
9:00 AM - 5:00 PM
---
Overview
In order to properly audit Oracle databases, auditors have to have an understanding of what is involved in an Oracle database and how the database operates. These foundations are more will be covered to provide a solid foundation to build from throughout the course.
Topics
Foundations
Reasons for database auditing
Governance controls
Risk evaluation, identification and assessments
Audit scripts used to successfully audit an Oracle database
Oracle security solutions and resources available for Oracle databases
Oracle Database Concepts
Oracle's physical and logical structure
Schemas, databases, instances and their relationship
SQL, DML and DDL
Foundational database terms such as data types, primary keys, stored procedures, views, etc.
Using SQL*Plus effectively in an audit
Oracle's data dictionary
Key v$ views for auditors
Physical and Environmental Controls
Data center controls
Physical access to data
Architectural and Inventory Controls
Physical and logical diagrams
Data flows
Obtaining an inventory of databases
Tools to assist in verifying the inventory
Change Control, Patch Management and Vulnerabilities
Processes for identifying vulnerabilities
Dev, test, staging and prod environments
Change control procedures
Oracle CPUs/PSUs
Using opatch to determine patching history
Vulnerability testing tools
OS, Network and Application Controls
Key OS accounts to audit
OS permissions
Oracle database files to review at the operating system level
Including:

How to find their locations
External Tables
Methods to control network access
Database Firewalls
Common application risks
Staff
Tue Feb 12th, 2013
9:00 AM - 5:00 PM
---
Overview
There are many authentication and access control options available for Oracle databases. Auditors must understand what the options are and how they can be implemented so they are properly audited. This day begins by looking at the risks related to the listener, and then moves into the controls around authentication and access control.
Topics
Listener Security
What the listener does and how it operates
Key files related to the listener
Types of listener entries
Listener logging
Checklist for Auditing the listener
Authentication Process and Methods
Authentication architecture
03Logon and 05Logon process
Controls for authentication methods including:

Database
Operating system
Password file
Single sign-on
Oracle Advanced Security
Auditing to protect against sniffing and spoofing attacks
Auditing for brute force attacks
Methods for securing authentication weaknesses
Access Controls including User Accounts, Roles and Passwords
Administrative access controls
Auditing vendor, contractor and consultant access
Auditing user accounts - including auditing for dormant accounts and shared accounts

Password controls
Password complexity
Password storage
Password history

Session limits
Profiles
Auditing roles
Virtual Private Databases (VPDs)
Transparent Data Encryption (TDE)
Data Redaction
Staff
Wed Feb 13th, 2013
9:00 AM - 5:00 PM
---
Overview
Continuing to build the audit program, Oracle specific risks such as links, parameters, data integrity controls and auditing will be discussed. Links provide database to database communication and therefore can be a risk to the database. Students understand the important privileges and parameters to look at, as well as controls that should be in place related to backups and auditing.
Topics
Links
Types of database links
Connection types for links
Controls that should exist related to links
Auditing for links being used
Privileges
Views used to audit privileges
dba_sys_privs, dba_tab_privs, dba_col_privs and dba_role_privs
Privilege Analysis in 12c
Triggers
Object ownership
System privileges
Packages, including the higher risk packages that must be audited
PUBLIC privileges
Synonyms
Database vault
Data Masking
Encryption controls for data at rest and data in transit
Parameters
What parameters are and how they are used in Oracle Databases
Listing of all parameters that should be audited and their recommended values
Backups, DRP and BCP
Backup controls
Reducing single-points of failure
Standby databases
Restricting Tools and Data Integrity Controls
Methods to restrict access to data
Data integrity controls
Auditing
Oracle database methods for auditing
Oracle audit vault and best practices
Standard auditing
Fine-grained auditing
Triggers
LogMiner
Flashback
Total Recall
Unified Auditing in Oracle 12c
Additional Information
Students need to bring a laptop computer with an Ethernet network card and a CD-ROM drive. Students should use Windows and have a functional Oracle 11gR2 or later client installed with SQL*Plus. The Oracle client software can be downloaded from Oracle's Web site. Students will also need the capability to set an IP address and install tools on the system. Additional tools such as Oracle Enterprise Manager are not required.
Please download the install instructions for this class here.
If you have additional questions about the laptop specifications, please contact laptop_prep@sans.org.
Internal Auditors
IT Specialist Auditors
IT Auditors
IT Audit Managers
Information System Auditors
Information Technology Auditors
Information Security Officers
Other Courses People Have Taken
Other Courses People Have Taken
Any of the other audit courses.
After taking this course, the student will also be prepared to take the Security 509 course.
The course CD includes audit queries, scripts and tools that will assist in conducting an Oracle Database audit.
Author Statement
Oracle Databases are foundational to many organizations and their operations today. Data is what differentiates many companies, and databases are where the data is obtained. Unfortunately, many times the business risks that an Oracle database poses to an organization are not identified and mitigated due to a lack of knowledge around the controls that should exist. Oracle databases are very complex, and it is not enough to just follow a checklist if you do not have a comprehensive understanding of the security features available within Oracle. This course focuses on understanding, identifying and mitigating business risks presented by Oracle databases. The course starts by covering foundational information, including an introduction to SQL and an architectural understanding of Oracle. Once the foundation is built, students explore the Oracle environment and how to identify weaknesses. Hands-on exercises give students the opportunity to not only hear about the vulnerabilities, but also identify the vulnerabilities themselves. Oracle specific security solutions will also be discussed including database auditing, TDE encryption, virtual private databases, label security, database vault, audit vault, FGA, total recall, configuration scanning, ASO and data masking and how they can by incorporated into current business processes, or what it means for the business process if these tools are missing. Multiple tools, queries and techniques will be explored in order to obtain a comprehensive understanding on how to audit Oracle databases. Auditors will walk away with a new understanding of how Oracle databases operate and the controls that should be present. -Tanya Baccam
Venue Information
Fairfield Inn & Suites by Marriott Plano/The Colony

5909 Stone Creek Drive
The Colony, TX 75056 US

Phone:

972-370-7732

Fax:

972-370-7734
Reservation Information
A block of rooms has been reserved for SANS attendees at a special rate of $95. Reservations must be made directly with the the hotel via telephone at 972-370-7732 by January 22. All reservations after this date are subject to rate and space availability.We also encourage you to check rates online.