Another year at RSA Conference has come and gone, and what a whirlwind it was! From SANS's annual keynote panel on the most dangerous threats, to expert breakout sessions and our stellar lineup of live interviews we streamed direct from our booth on the show floor, there was lots to see of SANS and GIAC at RSA Conference 2023.
Take a scroll through some of our stand-out moments from this year's event.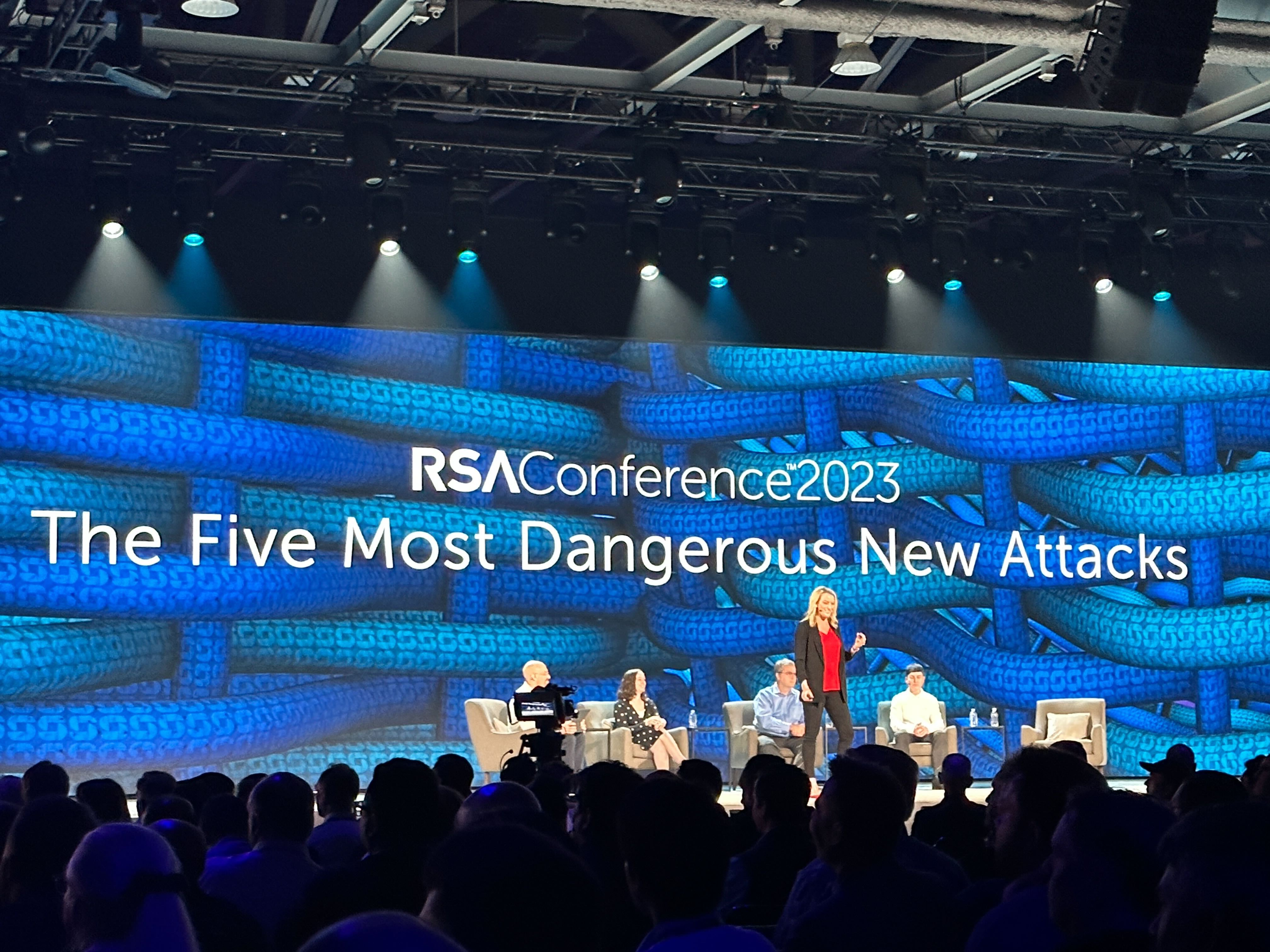 Live Streaming with the Best of the Best
For the second year running, SANS hosted a series of interviews with top SANS faculty members and a few other special guests, live from our booth on the show floor. We made a handful of improvements over our inaugural year, condensing the interviews to a few hour blocks so it would be easier to catch a handful of interviews in one fell swoop.
As you can see in the picture below, our design of the booth and setup of the live streaming was intentional to allow engagement with people at the event in person as well as those attending virtually from all over the globe.
Some of this year's featured guests included SANS faculty greats Ed Skoudis, Dr. Johannes Ullrich, Katie Nickels, Robert M. Lee, Heather Mahalik, Rob T. Lee, Megan Roddie, Josh Lemon, and Jorge Orchilles.
Check out all the video interviews in the RSAC 2023 playlist in the below YouTube player and find the live stream schedule here.
Hitting the Cyber Ranges
It was another fun and challenging year with the SANS NetWars Tournament, which took place over a couple of hours in the RSAC 2023 Learning Lab.
Participants had the opportunity to get their hands dirty and go head-to-head with their peers in our gamified environment featuring SANS NetWars Core Version 8.
Core 8's 100% browser-based, multi-level challenges allow players to practice or develop skills in areas such as cloud security, DNS analysis, regular expressions, malware analysis, network traffic analysis, kerberoasting, and vulnerability exploitation, just to name a few.
We extend our warm congratulations to the winners of this year's tournament, shown below standing with the infamous Chris Elgee (Hawaiian shirt), who helped run the event from the SANS team.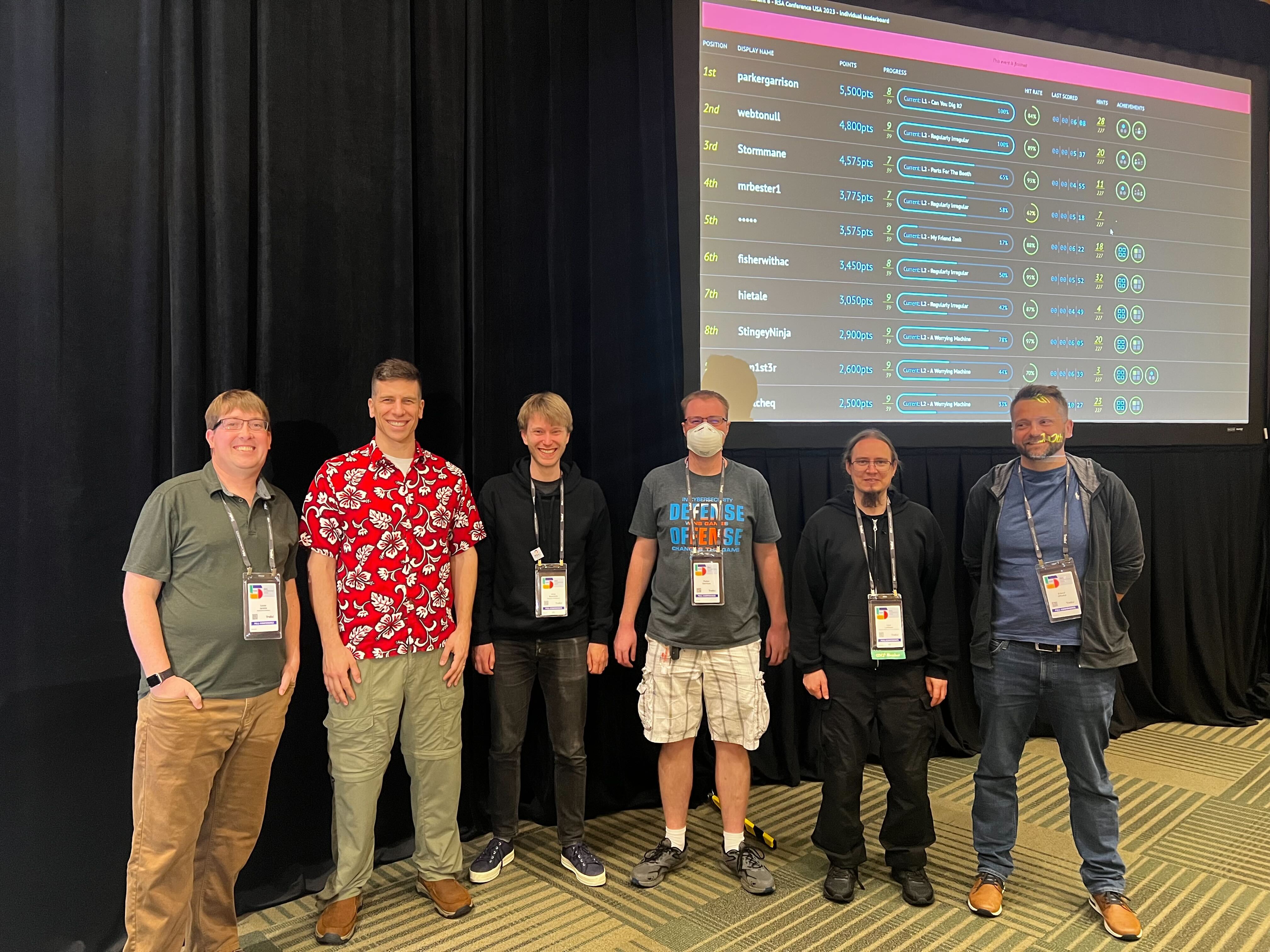 Top Threats for 2023
Each year at RSA Conference, SANS provides the authoritative briefing on the most dangerous new attack techniques in use today, what's coming next, and what organizations can do to prepare. As veteran panelist Heather Mahalik said it best, "When SANS knows something, we want to share it with you."
Our goal with this panel is to give organizations a chance to prioritize upcoming attack vectors and to get ahead of them.
If you are a RSA Conference 2023 pass holder, you can watch the full SANS keynote on demand here. If not, don't fret. Check back in the coming weeks, as we'll be sharing the recording here when it's available for viewing on YouTube. And until then, check out this handy infographic below summarizing what threats you need to be on the lookout for in 2023, and download your own copy here.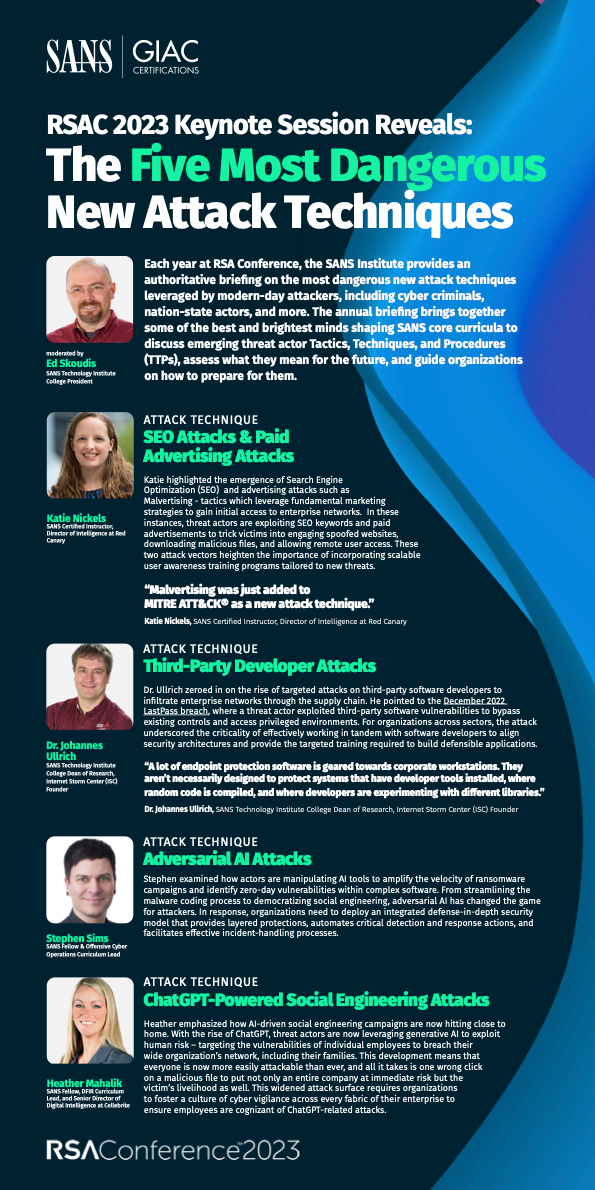 Don't Stop Now...
If you're looking for more about SANS and GIAC's presence at RSA Conference 2023, head over to our website to take advantage of additional resources, see our extensive list of SANS faculty members who presented breakout sessions, view the live stream guest roster, and more.