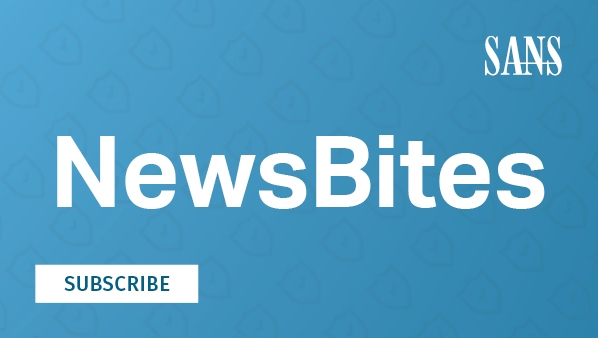 John Pescatore - SANS Director of Emerging Security Trends
SANS CyberStart America: Free Cybersecurity Training for US High School Kids
A bit of change this week... This Drilldown will focus on one item (included below) from NewsBites Issue 83, which is based on a SANS press release about CyberStart America. This free national program is designed to help high school students master cybersecurity as a gateway to the industry, up their digital skills and compete for college scholarships.
CyberStart America is an investment by SANS to help young people develop the knowledge base and hands-on cybersecurity skills they need to enter into satisfying and productive careers in cybersecurity and "fight the good fight"--close the gaps and make progress in raising the bar against attackers. It builds on successful programs that SANS has helped the U.K. and other countries set up, and has worked in more than 34 states in the U.S.
CyberStart is game based and offers more than 200 challenges that are based on real-world attack and defense tools and techniques.
If you have high school kids, nieces/nephews, grandkids, etc.-- or know of any--have them give it a shot and help fill the cybersecurity talent pipeline!
______________________________________________________________________________
A National Cyber Challenge: CyberStart America Free for All US High School Students; $2 Million in College Scholarships
(October 30, 2020)

"The U.S. Starts Ender's Hacking Game" is the title of today's story on CyberStart America in The Register. Free to every high school student in the country, CyberStart America has a fighting chance of eliminating the advanced cyber skills pipeline advantage that China and Russia have established. Designed both for students who have played with technology and students who had no idea they could be good at it (through the "novice level"), the game allows students to become virtual cyber protection agents who solve very real world problems. Those who enjoy it can progress through hundreds of challenges, learning at every level--through cryptography, Linux and Python programing all the way to reverse malware engineering. Teachers report that it is the best program for teaching creative problem-solving skills they have seen. Students who solve 20% of the challenges are eligible for the scholarship round, where $2 million in college scholarships will be awarded for use at the college of their choice. The qualification round starts on October 30 and lasts until the end of February.
[Paller] As of noon today (Eastern), 830 students are engaged.
Read more:

The Register: On Friday the US starts Ender's hacking game: All local teens can compete for scholarships in cybersecurity
www.theregister.com/2020/10/30/cyberstart_hacking_challenge/
Dark Reading: SANS Launches New CyberStart Program for All High School Students
www.darkreading.com/operations/sans-launches-new-cyberstart-program-for-all-high-school-students/d/d-id/1339323