SANS 2016 Sponsorship Opportunities
Click on the image below to check out an overview of SANS 2016 Sponsorship Opportunities and how you can get exposure with our security community!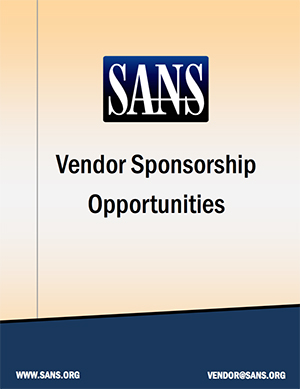 To download a PDF version click here
---
SANS National and Regional Conferences are reknowned among information security professionals as the most trusted place to received education, training, and certification. These events provide security vendors with the opportunity to connect directly with attendees, showcasing their products/services to an audience with purchasing authority and influence and generate valuable leads.
Connect with an attendee by exhibiting at the conference Vendor Expo. Host a lunch & learn session with a focused audience. These are just a few of the many ways vendor sponsors can get involved at a SANS event.
SANS National & Regional Conferences
Additional SANS Events
Tabletop Events- Held in conjunction with SANS training conferences, these one day Regional and Local events targeted to a specific geography. SANS also offers International Tabletop events.
Summit Series - 2 day events focused on a single current topic. Summit speakers are leading topic experts, customers as well as vendor speakers.
Community SANS - These events feature the most popular SANS courses taught in a small class-room setting. These events provide an opportunity to reach a specific SANS community.
Print and Media Programs