SEC301: Intro to Information Security
Great course for people starting into security essentials.

Excellent material for security professionals wanting a deeper level of knowledge on how to implement security policies, procedures, and defensive mechanisms in an organization.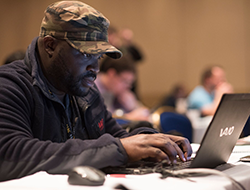 To determine if the SANS SEC301 course is right for you, ask yourself five simple questions:
Do you have basic computer knowledge, but are new to information security and in need of an introduction to the fundamentals?
Are you bombarded with complex technical security terms that you don't understand?
Are you a non-IT security manager (with some technical knowledge) who lays awake at night worrying that your company will be the next mega-breach headline story on the 6 o'clock news?
Do you need to be conversant in basic security concepts, principles, and terms, even if you don't need "deep in the weeds" detail?
Have you decided to make a career change to take advantage of the job opportunities in information security and need formal training/certification?
If you answer yes to any of these questions, the SEC301: Introduction to Information Security training course is for you. Jump-start your security knowledge by receiving insight and instruction from real-world security experts on critical introductory topics that are fundamental to information security. This completely revised five-day comprehensive course covers everything from core terminology to the basics of computer networks, security policies, incident response, passwords, and even an introduction to cryptographic principles.
This course is designed for students who have a basic knowledge of computers and technology but no prior knowledge of cyber security. The hands-on, step-by-step teaching approach will enable you to grasp all of the information presented even if some of the topics are new to you. You'll learn the fundamentals of information security that will serve as the foundation of your InfoSec skills and knowledge for years to come.
Written by a security professional with over 30 years of experience in both the public and private sectors, SEC301 provides uncompromising real-world insight from start to finish. The course prepares you for the Global Information Security Fundamentals (GISF) certification test, as well as for the next course up the line, SEC401: Security Essentials Bootcamp. It also delivers on the SANS promise: You will be able to use the knowledge and skills you learn in SEC301 as soon as you return to work.
Notes:
Note 1: You will receive approximately 15 pounds of books as part of your attendance in the class. If you travel to training from out of town, expect your luggage to be heavier on your return trip. Shipping facilities (FedEx, UPS, etc.) may not be available.
Note 2: When making plans to fly home, do not expect the course to end early on the final day. It is not uncommon for Day 5 of the SEC301 course to end close to 5pm.
Course Syllabus
SEC301.1: Security's Foundation
Overview
Every good security practitioner and every good security program begins with the same mantra: learn the fundamentals. SEC301 starts by instilling familiarity with core security terms and principles. By the time you leave the classroom after the first day, you will fully understand the Principle of Least Privilege and the Confidentiality, Integrity, and Availability (CIA) Triad, and you'll see why those principles drive all security discussions. You will be conversant in the fundamentals of risk management, security policy, authentication/authorization/accountability, and security awareness training.
Exercises
Lab 1 - Introducing the www.sec301.com Website: Establish a user account on that site to use in later labs (access to the site also provides access to lab videos that walk you through all of the labs).
Lab 2 - Building Better Passwords: We'll use a tool that shows how long it takes to compromise various passwords via a brute force attack.
SEC301.2: Computer Numbers and Cryptography
Overview
This course day begins with an explanation of how computers handle numbers using decimal, binary, and hexadecimal numbering systems. It also provides an understanding of how computers encode letters using ASCII (American Standard Code for Information Interchange). We then spend the remainder of the day on cryptography - one of the most complex issues faced by security practitioners. It is not a topic you can explain in passing, so we will spend some time on it. Not to worry, we won't take you through the math behind cryptography, but we'll look at basic crypto terminology and processes. What is steganography? What is substitution and transposition? What is a "work factor" in cryptography and why does it matter? What do we mean by symmetric and asymmetric key cryptography and "cryptographic hash", and why do you need to know? How are those concepts used together in the real world to create cryptographic systems?
Exercises
Lab 3 - Crypto by Hand: Apply the knowledge and skills you've learned to encrypt information using mono and poly alphabetic ciphers and gain a better understanding of triple encryption (as used by Triple DES).
Lab 4 - Visual Crypto: Observe the encryption process that occurs by turning plaintext (what you can read) into cyphertext (what you cannot read) in real time. Increase your understanding of what "randomness in cyphertext" really means and why it matters. See the cyphertext turned back into plaintext.
SEC301.3: Networking and Network Security
Overview
All attacks or exploits have one thing in common: they take something that exists for perfectly valid reasons and misuse it in malicious ways. Always! So as security practitioners, to grasp what is invalid we must first understand what is valid - that is, how things like networks are supposed to work. Only once we have that understanding can we hope to understand the mechanics of malicious misuse of those networks - and only with that knowledge can we understand how security devices such as firewalls seek to thwart those attacks. Day three begins with a nontechnical explanation of how data move across a network. From there we move to fundamental terminology dealing with network types and standards. You'll learn about common network hardware such as switches and routers, and you'll finally grasp what is meant by terms like "protocol" and "encapsulation". We'll give a very basic introduction to network addressing and port numbers and then work our way up the Open Systems Interconnection (OSI) protocol stack, introducing more detail only as we proceed to the next layer. In other words, we explain networking starting in non-technical terms and gradually progress to more technical detail as students are ready to take the next step. By the end of our discussions, you'll have a fundamental grasp of any number of critical technical networking acronyms that you've often heard and never quite understood: TCP/IP, IP, TCP, UDP, MAC, ARP, NAT, ICMP, and DNS. We will close out our day learning how to secure those networks using firewalls, intrusion detection systems, intrusion prevention systems, and others.
Exercises
Lab 5 - Networking: Use several network tools that are built into the Windows Operating System or the Mac Operating System to determine your network settings, and discover if Network Address Translation (NAT) is being used inside the classroom.
Overview
Our fourth day in the classroom is devoted primarily to securing host computers and similar devices. We begin with wireless network security (WiFi and Bluetooth), and mobile device security (i.e., cell phones). We follow that with a brief look at some common attacks. We then move into a discussion of malware and anti-malware technologies. From there we move into several data protection technologies and look at email encryption, secure remote access, secure web access, secure file transfer, and Virtual Private Network technologies. We will then look into the basics of securing endpoint computers via Operating System hardening, patch management, and application security. Of course, we spend some time on the critical topic of backups as well. We end the day with a look at web and browser security, one of the most common attack vectors.
Exercises
Lab 6 - Phishing IQ Quiz: Use an online site to look at several potential spam messages and determine which are legitimate and which are not. Students will see the results of their quiz with an explanation of why each message is either legit or spam.
Lab 7 - Validating Browser Security: Use a tool that scans your browser and browser plugins to determine if they are up to date and secure. If they are not, the tool will also help you to fix those problems.
SEC301.5: Protecting Assets
Overview
The final day of our SEC301 journey is all about protecting assets, mostly with a physical security theme but with some logical security included as well. We begin with the "meta security" discipline of operations security that looks at security issues throughout the organization, not just in the IT area. We then introduce the topic of safety and physical security. Students will become familiar with the concepts of data classification and data loss prevention. From there we move to an introductory look at incident response, including business continuity and disaster recovery planning. We'll close out with a brief discussion of social engineering so that students understand what it is and why it's so difficult to defend against.
Exercises
Global Information Security Fundamentals (GISF) Practice Exam: We end the course with an (optional) truncated GISF practice exam. We'll go through 20 exam questions together and answer them as a group, giving students an idea of the types of questions they might see on the real exam. We'll focus on some of the tougher questions students might struggle with.
Optional Advanced Labs
Three optional advanced labs are available to students in the lab workbook. These labs require administrative access on Windows computers:
LastPass - A password management utility
MalwareBytes - A malware scanning utility
SyncBack - A backup and file synchronization utility
These are not testable for the GISF exam, but are provided for advanced students looking for more of a hands-on challenge.
Additional Information
Here's what recent attendees had to say about this course:
"This class is great for IT professionals looking for their first step towards security awareness. I have been in IT for 17 years and I learned a lot on this first day of class." - Paul Beninati, EMC
"Good basic information for someone just coming into the field." - Bryce Richert, SUH
"It's a very good course if you need the basic foundation. It's a very helpful class to take because it expands on some basic concepts." - Shruti Iyer, DCS Corporation
SEC301 includes both lecture and hands-on labs. In order to perform the hands-on labs, you will need the following:
A laptop running any version of Microsoft Windows or a Mac (Macintosh) operating system.

A tablet such as an iPad or Android can perform most of the labs, but not all of them.

A Web Browser (Internet Explorer, Google Chrome, Firefox, Opera, or Safari). Any modern browser will work.
The ability to connect to a wireless (WiFi) network.
NOTE: Administrative (or "Admin") permission is NOT required to perform any of the labs you will do in class.
Video
Each lab also has a video in which the author of the course goes through the steps to complete the lab, explains why you are doing those steps, and outlines any output you may get on your screen and what that output means to you. You will receive access to those videos once you arrive at the class. Time to view the videos will not be provided during class, but if you think you might view some of them in the classroom, please bring earbuds or headphones so you do not distract other students.
If you have additional questions about the laptop specifications, please contact laptop_prep@sans.org.
The SEC301 Introduction to Information Security course is designed to address the needs of:
People who are new to information security and in need of an introduction to the fundamentals of security
Those who feel bombarded with complex technical security terms they don't understand, but want to understand
Non-IT security managers who deal with technical issues and understand them and who worry their company will be the next mega-breach headline story on the 6 o'clock news
Professionals with basic computer and technical knowledge in all disciplines who need to be conversant in basic security concepts, principles, and terms, but who don't need "deep in the weeds" detail
Those who have decided to make a career change to take advantage of the job opportunities in information security and need formal training/certification
SEC301 assumes basic knowledge of computers and technology.
SEC301 makes no assumptions regarding prior security knowledge.
We assume that student understand the basic functions of a computer and how to use one.

We assume students are already familiar with terms such as "Random Access Memory (RAM)" and "Hard Drive" and how these are different from each other.
We assume students already know how to open and operate a web browser, copy a file from one location to another, and perform other basic computer user functions.
Why Choose Our Course?
The SEC301 course lives up to its name: Introduction to Information Security. The course is designed for those who have limited background in Information Technology, but who need to understand security concepts, principles, and terms. If you fall into that category, SEC301 will serve your needs well.
Which Course Is Right For You?
This is the track SANS offers for the professional just starting out in security. If you have experience in the field, please consider our more advanced offerings such as Security Essentials, SEC401.
In this course, you will receive the following:
MP3 audio files of the complete course lecture
Communicate with confidence regarding information security topics, terms, and concepts
Understand and apply the Principles of Least Privilege
Understand and apply the Confidentiality, Integrity, and Availability (CIA) Triad
Build better passwords that are more secure while also being easier to remember and type
Grasp basic cryptographic principles, processes, procedures, and applications
Understand computer network basics
Have a fundamental grasp of any number of critical technical networking acronyms: TCP/IP, IP, TCP, UDP, MAC, ARP, NAT, ICMP, and DNS
Utilize built-in Windows tools to see your network settings
Recognize and be able to discuss various security technologies, including anti-malware, firewalls, and intrusion detection systems.
Determine your "Phishing IQ" to more easily identify SPAM email messages
Understand physical security issues and how they support cybersecurity
Have an introductory level of knowledge regarding incident response, business continuity, and disaster recover planning
Access a number of websites to better understand password security, encryption, phishing, browser security, etc.
Author Statement
If you want to be good at something, whether it be sports, music, science, math, or information security, you MUST have a solid grasp of the fundamentals. In fact, the better you understand the fundamentals the better you will be at a particular skillset. Without that foundation to build on, it is almost impossible to become a master at something. The Introduction to Information Security course is all about building those fundamentals and creating that foundation.
One of the things I enjoy most is seeing a student have that "ah-ha" moment. The moment when they suddenly understand a topic for the first time - often a topic they have wondered about for years. You can almost literally see the "light-bulb" of understanding appear over their head. There are "ah-ha" moments at every turn and on every day of the SEC301: Introduction to Information Security course.
- Keith Palmgren
Additional Resources
Take your learning beyond the classroom. Explore our site network for additional resources related to this course's subject matter.