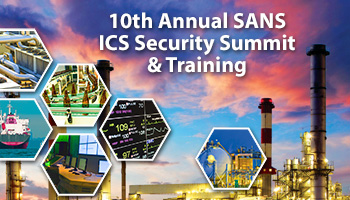 Welcome to 10th Annual ICS Security Summit
7 Courses
8 Instructors
3 Disciplines
10th Annual ICS Security Summit - Orlando
For SCADA, Industrial Automation, and Control System Security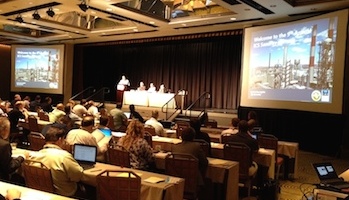 Join us for the 10th anniversary of the Annual SANS ICS Security Summit. The Summit is the premier event to attend in 2015 for ICS cybersecurity practitioners and managers. This year's summit will feature hands-on training courses focused on Attacking and Defending ICS environments, Industry specific pre-summit events, and an action packed summit agenda with the release of ICS security tools and the popular security kit for Summit attendees.
Summit Details
Attendees come to the Summit to learn and discuss the newest and most challenging cyber security risks to control systems and the most effective defenses. The Summit is designed so you leave with new tools and techniques you can put to work immediately when returning to your office. The summit will allow you to learn from industry experts on attacker techniques, testing approaches in ICS, and defense capability in ICS environments.

Why should you attend? Because you can't afford to miss these opportunities:
Training - Seven training classes to choose from.
Summit - Educational session tracks presented by the best minds in the field of SCADA security.
Networking - Opportunities to make connections in the industry with the most innovative minds in the industry.
Special Events!! - Exclusive Events for Summit attendees. Stay tuned for more information in the coming months.
Certification - Global Industrial Cyber Security Professional (GICSP) certification
Call for Papers
Benefits of Speaking
Promotion of your speaking session and company recognition via the ICS Summit website and all printed materials
Visibility via the ICS post-conference presentation email link for several months following the conference
Complimentary admission to attend all Summit sessions and networking functions
Private speaker luncheon
NB: Speakers may also be recorded and made available via the Internet to a wider audience (at the discretion of SANS).
Submission Guidelines
Title & Organization
Speaker Name(s)
Speaker Contact Information: Address, phone number, email address
Biography - approximately 150 words. Include your current position, titles, areas of professional expertise, experience, awards, degrees, personal information, etc.
Abstract - outline your presentation and what attendees will learn. All content must be strictly educational.
Sessions are generally 45-60 minutes.
Preferred shirt size (Men's S-4XL; Women's S-3XL)
Submit your submissions to ICSpapers@sans.org by October 1, 2014 with the subject line "CFP for 10th Annual ICS Security Summit - Orlando."
Additional SANS' ICS Resources: