FOR408: Computer Forensic Investigations - Windows In-Depth
The Registry labs are invaluable. I learned more in this class about registry than in 10 years at work. Thanks!
Michael Mimo, JP Morgan

FOR408 has the depth and breadth of knowledge shared by the instructor and contents of the lab make it necessary to take the course. Very impressive!
Debra Emmanuel, TWD & Associates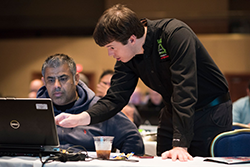 Master Windows Forensics. Learn Critical Analysis Techniques.
With today's ever-changing technologies and environments it is inevitable that every organization will deal with cybercrime, including fraud, insider threats, industrial espionage, and phishing. Government agencies also need the skills to perform media exploitation and recover key intelligence available on adversary systems. To help solve these cases, organizations are hiring digital forensic professionals and relying on cybercrime law enforcement agents to piece together what happened.
FOR408: COMPUTER FORENSIC INVESTIGATIONS - WINDOWS IN-DEPTH focuses on the critical knowledge of the Windows Operating System that every digital forensic analyst needs to investigate computer incidents successfully. You will learn how computer forensic analysts focus on collecting and analyzing data from computer systems to track user-based activity that can be used in internal investigations or civil/criminal litigation.
This course covers the methodology of in-depth computer forensic examinations, digital investigative analysis, and media exploitation so each student will have complete qualifications to work as a computer forensic investigator helping to solve and fight crime. In addition to in-depth technical knowledge of Windows Digital Forensics (Windows XP through Windows 8 and Server 2012), you will learn about well-known computer forensic tools such as Access Data's Forensic Toolkit (FTK), Guidance Software's EnCase, Registry Analyzer, FTK Imager, Prefetch Analyzer, and much more. Many of the tools covered in the course are freeware, comprising a full-featured forensic laboratory that students can take with them.
FIGHT CRIME. UNRAVEL INCIDENTS... ONE BYTE AT A TIME.
Computer Forensic Investigations - Windows In-Depth course topics
COMPUTER FORENSIC INVESTIGATIONS - WINDOWS IN-DEPTH COURSE TOPICS
Windows File System Foundations
Evidence Acquisition Tools and Techniques
Law Enforcement Bag and Tag
Evidence Integrity
Registry Forensics
Windows Artifact Analysis

Facebook, Gmail, Hotmail, Yahoo Chat and Webmail Analysis
E-Mail Forensics (Host, Server, Web)
Microsoft Office Document Analysis
Windows Link File Investigation
Windows Recycle Bin Analysis
File and Picture Metadata Tracking and Examination
Prefetch Analysis

Event Log File Analysis
Firefox, Chrome, and Internet Explorer Browser Forensics
Deleted File Recovery
String Searching and Data Carving
Examination of Cases involving Windows XP, VISTA, and Windows 7, and Windows 8
Media Analysis And Exploitation involving:

Tracking user communications using a Windows PC (e-mail, chat, IM, webmail)
Identifying if and how the suspect downloaded a specific file to the PC
Determining the exact time and number of times a suspect executed a program
Showing when any file was first and last opened by a suspect
Determining if a suspect had knowledge of a specific file
Showing the exact physical location of the system
Tracking and analysis of USB devices
Showing how the suspect logged on to the machine via the console, RDP, or network
Recovering and examining browser artifacts, even those used in private browsing mode

Forensic Analysis Report Writing
Fully Updated to include Windows 8 and Server 2012 Examinations
Course Contents
Instructors
Schedule

FOR408.1: Digital Forensics Fundamentals and Evidence Acquisition
Christian Prickaerts
Sat Nov 2nd, 2013
9:00 AM - 5:00 PM


Overview

Focus: Investigations begin with firm knowledge of proper evidence acquisition and analysis. Digital Forensics is more than just using a tool that automatically recovers data. Digital Forensics requires analytical skills. Today you will learn how the professionals accomplish digital forensics.

At first, investigating a case appears to be a daunting task. The hardest part of forensics is not recovering data, but understanding how the recovered evidence can prove a case. On day one, students become familiar with fundamental forensic topics that every investigator should know.

Securing or "bagging and tagging" digital evidence can be tricky. Each computer forensics examiner should be familiar with different methods of successfully acquiring and maintaining the integrity of the evidence. Starting with the foundations from law enforcement training in proper evidence-handling procedures, you will learn firsthand the best methods to obtain evidence in a case. You will use the Wiebetech Forensic Ultradock v5 Write Blocker, part of your Windows SIFTkit, to obtain evidence from a hard drive using the most popular tools in the field. You will learn how to use toolkits to obtain memory, encrypted or unencrypted hard disk images, and protected files from a computer system that is running or powered off.

Topics

Purpose of Forensics

Investigative Mindset
Focus on the Fundamentals

Evidence Fundamentals

Admissibility
Authenticity
Threats against Authenticity

Reporting and Presenting Evidence

Taking Notes
Report Writing Essentials
Best Practices for Presenting Evidence

Evidence Acquisition Basics

Wiebetech Forensic Ultradock v5 Write Blocker Utilization
Access Data's FTK Imager
Access Data's FTK Imager Lite

Preservation of Evidence

Chain of Custody
Evidence Handling
Evidence Integrity

Types of Acquisition

Logical vs. Physical
Basic Windows Memory Acquisition
Basic Disk-Based Acquisition
E-discovery Acquisition

Forensic Field Kits

Adapters/Cables
Write Blockers
Laptops/Handheld Imagers

Full Disk Image Acquisition Tools and Techniques

Seizing the Evidentiary Image of a USB Device
Seizing the Evidentiary Image from a Hard Drive

FOR408.2: Core Windows Forensics Part I: String Search, Data Carving, and E-mail Forensics
Christian Prickaerts
Sun Nov 3rd, 2013
9:00 AM - 5:00 PM


Overview

Focus: Moving quickly from evidence acquisition, you will begin your investigation using the same cutting-edge tools used by the pros. You will learn how major forensic suites can facilitate and expedite the investigative process. In addition, you will learn how to recover and analyze e-mail, the most popular form of communication. Client-based, server-based, mobile, and web-based email forensic analysis is discussed in-depth and students use their knowledge to solve a realistic spam e-mail case.

The section begins with the analysis of electronic evidence using commercial and freely available tools packaged into the Windows SIFT Workstation. You will learn how to recover deleted data from evidence, perform string searches using a word list, and begin to piece together the events that occurred. Today's course is critical to anyone performing digital forensics and provides the most up-to-date techniques to acquire and analyze digital evidence.

Forensics investigations involving e-mail occur every day. However, e-mail examinations require the investigator to pull data locally or from an e-mail server, or even recover web-based e-mail fragments from temporary files left by a web browser. Students will learn the critical steps needed to investigate Outlook, Exchange, Webmail, and even Lotus Notes e-mail stores.

This course is very hands-on. Students will acquire a disk image and begin analysis of a case that will require them to use the skills presented throughout the section.

Exercises

Recover deleted files
Search for files or e-mails containing specific keywords related to a case
Attribute email evidence to the individual who sent it
Find e-mail evidence sent to specific e-mail and IP addresses
Geo-locate sender of phishing e-mails
Detect phishing e-mails.

Topics

Forensic Automated Tools

Access Data's Forensic Tool Kit (FTK)
Guidance Software's EnCase
Freeware/Open-Source Capabilities

Traditional Tasks Using Forensic Tools

Triage Techniques
String/File Searches
Automated Forensics
Browsing Disks

Recovering Deleted Files

Automated Recovery
String Searches
Keyword Searches

E-Mail Forensics

Evidence of User Communication
How E-Mail Works
Determining Sender's Geographic Locations
Examination of E-Mail
Types of E-Mail Formats

Microsoft Outlook/Outlook Express
Web-Based Mail
Microsoft Exchange
Lotus Notes
Exchange Dumpster Forensics
Recovering Deleted E-Mails

E-Mail Analysis
E-Mail Searching and Examination

FOR408.3: Core Windows Forensics Part II - Registry and USB Device Analysis
Christian Prickaerts
Mon Nov 4th, 2013
9:00 AM - 5:00 PM


Overview

FOCUS: Focus on Windows XP, Windows 7, and Windows 8 Registry Analysis and USB Device Forensics.

Our journey continues with the Windows Registry, where the digital forensic investigator will learn how to discover critical user and system information pertinent to almost any investigation. Each examiner will learn how to navigate and examine the Registry to obtain user profile data and system data. The course teaches forensic investigators how to prove that a specific user performed key word searches, ran specific programs, opened and saved files, perused folders, and used removable devices.

Removable storage device investigations are often a key part of performing computer forensics. We will show you how to perform in-depth USB device examinations on Windows 8, Windows 7, Vista, and Windows XP machines. You will learn how to determine when a storage device was first and last plugged in, its vendor/make/model, and even the unique serial number of the device used.

Throughout the section, investigators will use their skills in a real hands-on case, exploring evidence and analyzing evidence.

Exercises

Employ best-of-breed forensic tools to search for relevant e-mail and file attachments in large data sets
Understand key concepts like e-mail object filtering, de-duplication, and message similarity
Learn to use Nuix, a world-class e-mail forensics and e-discovery tool
Use forensic software to recover deleted objects from e-mail archives
Perform data visualization and timeline analysis
Attribute e-mail evidence and geo-locate senders via header analysis
Analyze document meta-data present in e-mail archives

Topics

Registry Forensics In-Depth

Registry Basics

Hives, Keys, and Values
Registry Last Write Time
MRU Lists

Profile Users and Groups

Discover Usernames and the SID mapped to them
Last Login
Last Failed Login
Logon Count
Password Policy

Core System Information

Identify Current Control Set
System Name and Version
Timezone
Local IP Address Information
Wireless/Wired/3G Networks
Geo-location using Wireless Networks
Network Shares
Last Shutdown Time

User Forensic Data

Evidence of Program Execution
Evidence of File Downloads
Evidence of File and Folder Access (Shellbag)
XP, Win7, Win8 Search History
Typed Paths and Directories
Recent Documents (RecentDocs)
Open-> Save/Run Dialog Boxes Evidence
Application Execution History (UserAssist)

External and BYOD Device Forensic Examinations

Vendor/Make/Version
Unique Serial Number
Last Drive Letter
MountPoints2 - Last Drive Mapping Per User
Volume Name and Serial Number
Username that Used the USB Device
Time of First Use of USB Device
Time of Last Use of USB Device
BYOD Device Forensics

Tools Utilized

Regripper and Regripper plugins
Access Data Registry Viewer
YARU (Yet Another Registry Utility)

FOR408.4: Core Windows Forensics Part III - Artifact and Log File Analysis
Christian Prickaerts
Tue Nov 5th, 2013
9:00 AM - 5:00 PM


Overview

Focus: Suspects unknowingly create hundreds of files that link back to their actions on a system. Learn how to examine key files such as link files, Windows prefetch, pagefile/system memory, and more. The latter part of the section centers on examining Windows log files, demonstrating their usefulness in both simple and complex cases.

Continuing from the previous section, the investigator will focus on key files found on the Windows operating system containing evidence. We start with examining the pagefile, system memory, and unallocated space, all difficult-to-access locations that can offer the critical data for your case. Examine key evidentiary links to pictures, printed office documents, and files copied to a removable device.

Windows Log File analysis has solved more cases than possibly any other type of analysis. Understanding the locations and content of these files is crucial to the success of any type of investigator. Many investigators overlook these files because they do not have adequate knowledge or tools to get the job done. The last part of the section will arm each investigator with the core knowledge and capability to maintain this crucial skill for many years to come.

Exercises

Recycle Bin Analysis
Shortcut (LNK) File Analysis
Prefetch Folder Analysis
Recovery of Chat Sessions, Web-Based E-Mail, Social Networking, and Private Browsing

Topics

Memory, Pagefile, and Unallocated Space Analysis

Artifact Recovery and Examination
Facebook Live, MSN Messenger, Yahoo, AIM, GoogleTalk Chat
IE8/IE9 InPrivate/Recovery URLs
Yahoo, Hotmail, G-Mail, Webmail, E-Mail

Forensicating Files Containing Critical Digital Forensic Evidence

Office Documents (2000-2007, doc, and .docx)
Adobe Files
EXIF Data including GPS Coordinates
Link/Shortcut Files (.lnk)
Win7/Win8 Jump Lists
XP Thumbs.db and Vista/Win7/Win8 Thumbscache Files
Internet Chat Programs (Skype/AIM/MSN)
Windows Prefetch Analysis (XP/Vista/Win7/Win8)
Windows Recycle Bin Analysis (XP/Vista/Win7/Win8)

Windows Event Log Digital Forensic Analysis

Which Windows Events Matter to a Digital Forensic Investigator
EVT Log Files

EVTX Log Files

Finding Evidence of User Logins, Remote Desktop Usage, Malware Execution, and More

FOR408.5: Core Windows Forensics Part IV: Web Browser Forensics- Firefox, Internet Explorer, and Chrome
Christian Prickaerts
Wed Nov 6th, 2013
9:00 AM - 5:00 PM


Overview

Focus: Internet Explorer and Firefox Browser Digital Forensics. Learn how to examine exactly what an individual did while surfing via their web-browser. The results will give you pause the next time you use the web.

With the increasing use of the web and the shift toward cloud computing using web-based applications, it is essential that browser forensic analysis is key to the investigator's skills. The investigator will explore comprehensive web browser evidence created during the use of Internet Explorer and Firefox. The analyst will learn how to examine cookies, history, and Internet cache files of the suspect's system. We will show you where you can examine these files and the common mistakes amateur investigators make when looking at browser artifacts.

Throughout the section, the investigator will utilize their skills in real hands-on cases, exploring evidence created by Firefox and Internet Explorer and Windows OS artifacts.

Exercises

Track a suspect's activity in browser history and cache files
Examine which files a suspect downloaded
Determine URLs that suspects typed, clicked on, bookmarked, or merely popped up while they were browsing.

Topics

Browser forensics

History
Cache
Searches
Downloads
Understanding of browser timestamps
Internet Explorer 6, 7, 8, and 9

IE Key forensic file locations

History Index.dat (master, daily, weekly) timestamps
Cache Index.dat timestamps
InPrivate browsing
IE8/IE9 recovery folder analysis

Firefox 2-5

FF2 and FF3-5 key forensic file locations
Mork format and .sqlite files
Download history
Cache examinations
Typed URLs
FF3+ recovery data analysis
Private browsing
Session Recovery

Examination of browser artifacts

Flash cookie files
DOM objects
Super cookies

Tools used

MANDIANT Inc.'s Web Historian
Access Data's FTK
FoxAnalysis

Day 5 exercises

Track a suspect's activity in browser history and cache files
Examine which files a suspect downloaded
Determine URLs a suspect type, click on, bookmark, or merely pop-up while they were browsing

FOR408.6: Windows Digital Forensic Challenge and Mock Trial
Christian Prickaerts
Thu Nov 7th, 2013
9:00 AM - 5:00 PM


Overview

Focus: This section revolves around the Windows Vista/7-based Digital Forensic Challenge. There has been a murder-suicide and you are the investigator assigned to process the hard drive. The section is a capstone for every artifact discussed in the class. You will use this section to consolidate the skills that you have learned over the past week.

Nothing will prepare you more as an investigator than a full hands-on challenge that requires you to use the skills and knowledge presented throughout the week. In the morning, you will have the option to work in teams on a real forensic case in which evidence will be provided to you to analyze. The case will step you through proper acquisition, analysis, and reporting in preparation for a possible trial. All the teams will work on the case with the objective of discovering critical pieces of evidence to present during the trial.

The complex case presented will involve an investigation of one of the most recent versions of the Windows Operating System. The evidence is real and provides the most realistic training opportunity currently available. Solving the case will require that students use the skills from each of the previous sections.

The section will conclude with a mock trial involving presentations of the evidence collected. The team with the best in-class presentation and short write-up wins the challenge...and the case!

The day will conclude with a mock trial in which presentations of the collected evidence will occur. The team with the best in-class presentation and short write-up will win the challenge and the case.

Exercises

Windows 7/Vista-Based Forensic Challenge
Mock Trial

Topics

Analysis

Following evidence analysis methods discussed throughout the week, find critical evidence.
Examine registry, e-mail, recovered files, and more.

Reporting

Focus and submit the top three pieces of evidence discovered and discuss what they prove factually.
One of the submitted pieces of evidence will be documented for potential examination during the mock trial.

Mock Trial

Each team will be asked to prepare an

Executive Summary
Short Presentation
Conclusion

The team voted to have the best argument and presentation proving their case will win the challenge.

Additional Information

Laptop Required

!!IMPORTANT - BRING YOUR OWN LAPTOP CONFIGURED USING THESE DIRECTIONS!!

A properly configured system is required for each student participating in this course. Before coming to class, carefully read and follow these instructions exactly.

You can use any 64-bit version of Windows, MAC OSX, or Linux as your core operating system that also can install and run VMware virtualization products.

It is critical that your CPU and operating system support 64-bit so that our 64-bit guest virtual machine will run on your laptop. VMware provides a free tool for Windows and Linux that will detect whether or not your host supports 64-bit guest virtual machines. For further troubleshooting, this article also provides good instructions for Windows users to determine more about the CPU and OS capabilities. For Macs, please use this support page from Apple to determine 64-bit capability.

Please download and install VMware Workstation 10, VMware Fusion 6.0, or VMware Player 6.0 or higher versions on your system prior to class beginning. If you do not own a licensed copy of VMware Workstation or Fusion, you can download a free 30-day trial copy from VMware. VMware will send you a time-limited serial number if you register for the trial at their Web site.

VMware Player is a free download that does not need a commercial license. Most students find VMware Player adequate for the course.

MANDATORY FOR408 SYSTEM HARDWARE REQUIREMENTS:

CPU: 64-bit Intel® x64 2.0+ GHz processor or higher based system is mandatory for this class (Important - Please Read: a 64 bit system processor is mandatory)
8 GB (Gigabytes) of RAM minimum (We strongly recommend 8 GB of RAM or higher to get the most out of the course)
Ethernet CAT5 Networking Capability Recommended or Wireless 802.11 B/G/N
DVD/CD Combo Drive
USB 2.0 or higher Port(s)
200 Gigabyte Host System Hard Drive minimum
100 Gigabytes of Free Space on your System Hard Drive
The student should have the capability to have Local Administrator Access within their host operating system

MANDATORY FOR408 SYSTEM SOFTWARE REQUIREMENTS:

PLEASE INSTALL THE FOLLOWING SOFTWARE PRIOR TO CLASS:

Microsoft Office (any version) w/Excel or OpenOffice w/Calc installed on your host - Note you can download Office Trial Software online (free for 60 days)
Install VMware Workstation 10, VMware Fusion 6.0, or VMware Player 6.0 (higher versions are ok) )

MANDATORY FOR408 ADDITIONAL ITEMS:

One USB Thumb Drive (2-4 GB in size)
One External USB 2.0 or Firewire Hard Drive (Formatted NTFS)
One 3.5 inch IDE or SATA hard disk drive from:

Hard drive purchased from EBAY or craigslist
Hard drive from used PC at home/work
Local computer show
New/Old hard drive from any computer store
During an image acquisition exercise, we use the used drive for imaging only

IN SUMMARY, BEFORE YOU BEGIN THE COURSE YOU SHOULD:

Bring the proper system hardware (64bit/6GB Ram) and operating system configuration
Install VMware (Workstation, Player, or Fusion), MS Office, and 7zip
Bring the proper mandatory additional items

If you have additional questions about the laptop specifications, please contact laptop_prep@sans.org.

Who Should Attend

Information technology professionals who wish to learn the core concepts of computer forensics investigations.
Incident response team members who are new to responding to security incidents and need to use computer forensics to help solve their cases.
Law enforcement officers, federal agents, or detectives who want to become a subject matter expert on computer forensics for Windows-based operating systems.
Media exploitation analysts who need to master tactical exploitation and document and media exploitation (DOMEX) operations on systems used by an individual. Attendees will be able to specifically determine how individuals used a system, who they communicated with, and the files that were downloaded, edited, and deleted.
Information technology lawyers and paralegals who want to a formal education in digital forensic investigations.
Anyone interested in computer forensic investigations who has a background in information systems, information security, and computers

Why Take This Course?

What you will learn

Perform proper windows forensics analysis, determine how and who placed an artifact on the system by applying key analysis techniques covering Windows XP through Windows 8
Using full scale forensic analysis tools and analysis methods detail every action a suspect accomplished on a Windows system - determine program execution, file/folder opening, geo-location, browser history, USB devices, and more.
Uncover the exact time that a specific user last executed a program over time that is key to proving intent in many cases such as intellectual property theft, hacker breached systems, and traditional crimes through registry analysis, windows artifact analysis, and email analysis.
Demonstrate every time a file has been opened by a suspect through IE browser forensics, shortcut file analysis (LNK), email analysis and registry parsing using regripper.
Using automated analysis techniques via AccessData's Forensic ToolKit (FTK), identify key words searched for by a specific user on a windows system that can be used to identify files that the suspect was interested in finding.
Using shellbags analysis tools, articulate every folder and directory that a user opened up while he was browsing through their hard drive
Determine each time a unique and specific USB device is attached to the windows system, the files and folders that were accessed on it, and who plugged it in via tools parsing key windows artifacts such as the registry and log files.
Using the Win8 SIFT Workstation, examine how a user logged into a windows system through a remote session, at the keyboard, or simply unlocking their screensaver by viewing the logon types in the windows security event logs.
Using FTK Registry Viewer, pinpoint geo-location of a windows system through the examination of the networks they have connected to, browser search terms, and cookie data to determine where a crime was committed.
Using Webhistorian recover browser history of a suspect who has attempted to clear their trail using in-private browsing through the recovery of session restore points and flash cookies

Certifications

What You Will Receive

Windows version of the SIFT Workstation Virtual Machine with over 200 commercial, open source and freeware Digital Forensics and Incident Response tools prebuilt into the environment
Full license to AccessData FTK and Guidance Software EnCase for a three-month trial
Full license to MagnetForensics Internet Evidence Finder for a 15-day trial

Two full real-world cases to examine during class

Course DVD loaded with case examples, tools, and documentation

IDE Cable Connector
SATA Cable Connector
LCD and Menu system
Three FireWire Ports
USB 3.0 Port
Automatic HPA/DCO detection and alerting.

You Will Be Able To

Perform proper Windows forensic analysis by applying key analysis techniques covering Windows XP through Windows 8
Use full-scale forensic tools and analysis methods to detail every action a suspect accomplished on a Windows system, including how and who placed an artifact on the system, program execution, file/folder opening, geo-location, browser history, profile USB device usage, and more
Uncover the exact time that a specific user last executed a program through Registry analysis, Windows artifact analysis, and e-mail analysis, and understand how this information can be used to prove intent in cases such as intellectual property theft, hacker breached systems, and traditional crimes
Determine the number of times files have been opened by a suspect through browser forensics, shortcut file analysis (LNK), e-mail analysis, and Windows Registry parsing
Use automated analysis techniques via AccessData's Forensic ToolKit (FTK)
Identify keywords searched by a specific user on a Windows system in order to pinpoint the files and information that the suspect was interested in finding and to accomplish damage assessments
Use shellbags analysis tools to articulate every folder and directory that a user opened up while browsing the hard drive
Determine each time a unique and specific USB device was attached to the Windows system, the files and folders that were accessed on it, and who plugged it in by parsing key Windows artifacts such as the Registry and log files
Learn event log analysis techniques and use them to determine when and how users logged into a Windows system via a remote session, at the keyboard, or simply by unlocking their screensaver
Determine where a crime was committed using FTK Registry Viewer to pinpoint the geo-location of a system by examining connected networks, browser search terms, and cookie data
Use Mandiant Web Historian, parse raw SQLite databases, and leverage browser session recovery artifacts and flash cookies to identify web activity of suspects, even if privacy cleaners and in-private browsing are used.

Press & Reviews

"This is a very high intensity course with extremely current course material that is not available anywhere else in my experience." -Alexander Applegate, Auburn University

"Best forensics class I've had yet (and pretty much the only one that gives you some sort of framework on HOW to attack an exam)." - Det Det. Juan C. Marquez Prince William County Police Dept

"Hands down the BEST forensics class EVER!! Blew my mind at least once a day for 6 days!" -Jason Jones, USAF

Course Review: SANS FOR408 Computer Forensic Investigations - Windows In-Depth - http://www.ethicalhacker.net/content/view/459/24/

"I took SANS FOR408 Windows Forensics and the learning opportunity was second to none. Anyone looking for a first rate forensics class that you can immediately take back to the real world and apply to their job needs to take at least one class from SANS in their lifetime. Whatever the cost may be to you, if forensics is a career priority to you, then you need to take at least one forensics class from SANS." - Chris Nowell - Information Security Architect, Airlines Reporting Corporation (ARC)

"As a member of the IR team, this course will aid in investing compromised hosts". - Mike Piclher, URS Corp

"FOR408 is based on real scenarios that are likely to occur again. The most up-to-date training I have received." - Martin Heyde, UK Ministry of Defence

"Best forensics course I've taken to date. Vast amounts of information." - Ellen Clark, FBI

"Call me a geek, but this is FUN!" - Frank Dixon, The Babcock & Wilcox Company

"Overall the course continues to be chockfull of megalicious forensicness. Thank a bunch for the key knowledge." - Vincent Bryant, Blue Cross Blue Shield of Tennessee

"If you weren't interested in forensics before, you will be after this class. For those who already love it, its reassurance that you're doing the right thing with your life." - Cleora Madison, Walt Disney Theme Parks and Resorts

"The Registry labs are invaluable. I learned more in this class about registry than in 10 years at work. Thanks!" - Michael Mimo, JP Morgan

"I was really looking forward to Windows in-depth and that's exactly what we're getting!" - Joshua Hoover, Charles Schwab

"I have been using forensics tools for years. I never professed to 'know it all'; however, I did not expect to learn as much as I did." - Jody Hawkins, Cook Children's Health Care System

"I really appreciate the prebuilt and configured SIFT workstation. The For 408 class materials and instruction were outstanding." Clint Modesitt, LSUHSC

"FOR408 is absolutely necessary for any computer forensic type career. Excellent information!" - Rebecca Passmore, FBI