Digital Forensics Incident Response Summit
Summit Dates: July 7-8, 2015
SANS DFIR NetWars: July 10-11, 2015
Training Course Dates: July 9-14, 2015
The Digital Forensics and Incident Response (DFIR) Summit & Training event combines hands-on DFIR classroom training with trending DFIR summit speakers together into ONE premier event. Choose from 5 DFIR training classes and add on the two-day action-packed Summit that will help you build your DFIR Skills to new levels. One of the few DFIR-only training events on the SANS calendar! Join the most innovative minds in the industry to tackle advanced DFIR issues.
Top 4 Reasons to Attend
DFIR Focused Training - The event hosts only DFIR training classes SANS has to offer.
Summit Talks - The summit packed with trending talks and leading speakers covering the most innovative DFIR topics. Actually be able to speak and sit down to have a real discussion with some of the leaders in the field.
DFIR NetWars - Free if you sign up for a class: SANS DFIR NetWars is a hands-on, interactive learning environment that enables DFIR professionals to develop and master the skills they need to excel in their field.
Austin - Bring your team to learn during the day and enjoy 6th street in the evening with other DFIR friends and colleagues in the community. Time and again, we have been told that the connections in the industry made at the summit is the real value of an event like this.

"SANS continues to deliver speakers with high caliber content that is in line with current security trends, which is a need for security practitioners." - Daniel Garcia, Baker Hughes

"Bleeding edge knowledge, AWESOME people."
- Anthony Layton, Stout Risius Ross, Inc.

"Cutting-edge research shared by those in the trenches and the frontlines of digital forensics and incident response. A must attend event for every DFIR professional!"
- Brad Garnett, Kemper CPA Group LLP

"There is no substitute the value of the DFIR Summit. The speakers and networking answer real world questions."- Mark Stingley, University of Texas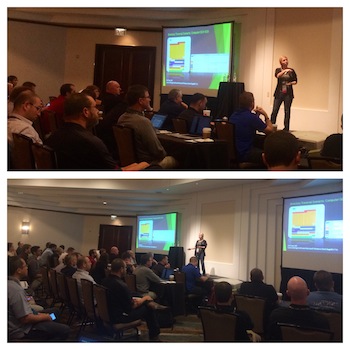 Stay connected via Twitter, using hashtag #DFIRsummit, to hear announcements and discussions surrounding the Summit.
Special Offers for All Attendees!
This offer reduces the Summit registration fee from $1,495 to $995 when purchased in conjunction with a full price 5-6 day course a savings of $500!
Call for Speakers- Now Open
The 8th Annual Digital Forensics and Incident Response Summit Call for Speakers is now open. If you are interested in presenting or participating on a panel, we'd be delighted to consider your practitioner-based case studies with communicable lessons.
The DFIR Summit offers speakers the opportunity for exposure and recognition as industry leaders. If you have something substantive, challenging, and original to offer, you are encouraged to submit a proposal.
Benefits of Speaking
Promotion of your speaking session and company recognition via the DFIR Summit website and all printed materials
Visibility via the DFIR post-Summit on the SANS DFIR Website
Top 8 presentations invited to do a full SANS Webcast
Full conference badge to attend all Summit sessions
Speakers can bring 1 additional attendee for free to attend the summit
Private speakers-only networking lunches
Speakers-only networking reception on evening before Summit
*Presentations may also be recorded and made available via the Internet to a wider audience (at the discretion of SANS).
Submission Requirements
Title of Proposed Talk
Abstract

The presentation abstract should outline your presentation and what attendees will learn. All content must be strictly educational. The presentation should be relevant to: Digital Forensics Examiners, Media Exploitation Analysts, Legal, Incident Response Teams, Security Operations and Law Enforcement professionals.

Author Name(s)
Author Title
Company
Speaker Contact Information: Address, phone number, email address
Biography

Your biography should be approximately 150 words. You may include your current position, titles, areas of professional expertise, experience, awards, degrees, personal information, etc.

Twitter Handle:
Google+:
Facebook:
Blog:
YouTube videos featuring you speaking:
Session/panel length: 45-60 minutes Presentation: 40-45 minutes Question & Answer: 5-10 minutes
Submit your submissions to callforpapers@sans.org by 5 pm EST on Monday, December 15, 2014 with the subject "SANS DFIR Summit CFP 2015."
Additional SANS Forensic Resources: