Offensive Countermeasures: Defensive Tactics That Actually Work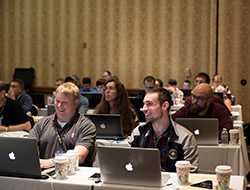 Presented by Black Hills Information Security
One of the big questions we get is why Offensive Countermeasures are so important. Well, to be honest, you will need it someday. The current threat landscape is shifting. We need to develop new strategies to defend ourselves. Even more importantly, we need to better understand who is attacking us and why. Some of the things we talk about you may implement immediately, others may take you a while to implement. Either way, consider what we discuss as a collection of tools at your disposal when you need them to annoy attackers, attribute who is attacking you and, finally, attack the attackers.
More to the point, the old strategies of security have failed us and will continue to fail us unless we start becoming more offensive in our defensive tactics.
Why Offensive Countermeasures?
Legal Issues
Core Security Concepts most People are Missing
Why Current Security Strategies are Failing
Layers of Defense for the Bad Guy
Observe Orient Decide Act
The Three A's of Offensive Countermeasures (Annoyance, Attribution and Attack)
Fuzzing Attack Tools
DOM-Hanoi
SpiderTrap
Web Labyrinth
DNS Servers from Hell
Honeypots
Dynamic Blacklists from the Command Line for Windows and for Linux
Dealing with Attackers using TOR
Proxychains and TORProxy
How Nmap Really Works with TOR
Metasploit Decloak
Word Web Bugs
Web Application Street Fighting
Browser Exploitation Framework
Evil Java Applications
Social Engineering Toolkit and OCM
Bypassing AV... To Attack the Attackers
Honey Claymores (or, Why did I open that file?)
Notice:
SANS Hosted are a series of classes presented by other educational providers to complement your needs for training outside of our current course offerings.
Course Syllabus
Additional Information
Host system with at least 2 Gig of memory.
VMware Player, Workstation or Fusion
Windows XP, Windows 7, or OS X
If you have additional questions about the laptop specifications, please contact laptop_prep@sans.org.
Security Professionals and Systems Administrators who are tired of playing catch-up with attackers.
Basic OS understanding of Windows and Linux and a basic understanding of TCP/IP