Incident Response and Management
Protect the organization's information, as well as its reputation, by developing and implementing an incident response infrastructure (e.g., plans, defined roles, training, communications, management oversight) for quickly discovering an attack and then effectively containing the damage, eradicating the attacker's presence, and restoring the integrity of the network and systems.
Why Is This Control Critical?
Cyber incidents are now just part of our way of life. Even large, well-funded, and technically sophisticated enterprises struggle to keep up with the frequency and complexity of attacks. The question of a successful cyber-attack against an enterprise is not "if" but "when".
When an incident occurs, it is too late to develop the right procedures, reporting, data collection, management responsibility, legal protocols, and communications strategy that will allow the enterprise to successfully understand, manage, and recover. Without an incident response plan, an organization may not discover an attack in the first place, or, if the attack is detected, the organization may not follow good procedures to contain damage, eradicate the attacker's presence, and recover in a secure fashion. Thus, the attacker may have a far greater impact, causing more damage, infecting more systems, and possibly exfiltrate more sensitive data than would otherwise be possible were an effective incident response plan in place.
How to Implement This Control
| ID # | Description | Category |
| --- | --- | --- |
| CSC 18-1 | Ensure that there are written incident response procedures that include a definition of personnel roles for handling incidents. The procedures should define the phases of incident handling. | Quick win |
| CSC 18-2 | Assign job titles and duties for handling computer and network incidents to specific individuals. | Quick win |
| CSC 18-3 | Define management personnel who will support the incident handling process by acting in key decision-making roles. | Quick win |
| CSC 18-4 | Devise organization-wide standards for the time required for system administrators and other personnel to report anomalous events to the incident handling team, the mechanisms for such reporting, and the kind of information that should be included in the incident notification. This reporting should also include notifying the appropriate Community Emergency Response Team in accordance with all legal or regulatory requirements for involving that organization in computer incidents. | Quick win |
| CSC 18-5 | Assemble and maintain information on third-party contact information to be used to report a security incident (i.e., maintain an e-mail address of security@organization.com or have a web page http://organization.com/security). | Quick win |
| CSC 18-6 | Publish information for all personnel, including employees and contractors, regarding reporting computer anomalies and incidents to the incident handling team. Such information should be included in routine employee awareness activities. | Quick win |
| CSC 18-7 | Conduct periodic incident scenario sessions for personnel associated with the incident handling team to ensure that they understand current threats and risks, as well as their responsibilities in supporting the incident handling team. | Configuration/Hygiene |
CSC 18 Procedures and Tools
After defining detailed incident response procedures, the incident response team should engage in periodic scenario-based training, working through a series of attack scenarios fine-tuned to the threats and vulnerabilities the organization faces. These scenarios help ensure that team members understand their role on the incident response team and also help prepare them to handle incidents.
A full treatment of this topic is beyond the scope of the Critical Security Controls. However, the actions in CSC 18 provide specific, high-priority steps that can improve enterprise security, and should be a part of any comprehensive incident and response plan.
CSC 18 Effectiveness Metrics
None
CSC 18 Automation Metrics
None
CSC 18 Effectiveness Test
None
CSC 18 System Entity Relationship Diagram
Organizations will find that by diagramming the entities necessary to fully meet the goals defined in this control, it will be easier to identify how to implement them, test the controls, and identify where potential failures in the system might occur.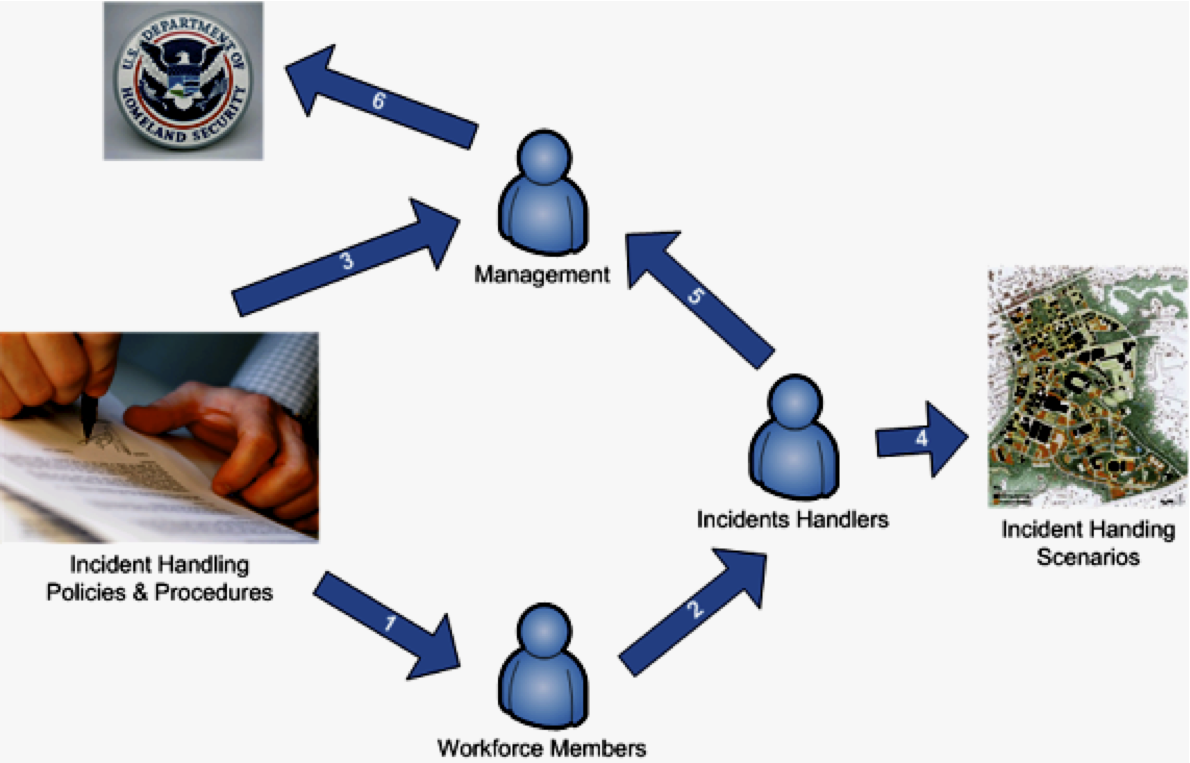 A control system is a device or set of devices used to manage, command, direct, or regulate the behavior of other devices or systems. In this case, we are examining the incident handling process and how prepared organizations are in the event that an incident occurs. The following list of the steps in the above diagram shows how the entities work together to meet the business goal defined in this control. The list also delineates each of the process steps in order to help identify potential failure points in the overall control.
Step 1: Incident handling policies and procedures educate workforce members as to their responsibilities during an incident
Step 2: Some workforce members designated as incident handlers
Step 3: Incident handling policies and procedures educate management as to their responsibilities during an incident
Step 4: Incident handlers participate in incident handling scenario tests
Step 5: Incident handlers report incidents to management
Step 6: The organization's management reports incidents to outside law enforcement and the appropriate computer emergency response team, if necessary.
---
This work is licensed under a Creative Commons Attribution-NoDerivs 3.0 Unported License.
To further clarify the Creative Commons license related to the 20 Critical Controls content, (i) All persons are authorized to use the content as a framework in their organization or to sell professional services related to the content (e.g. a consulting engagement to implement the 20 Critical Controls), and (ii) sale of the contents as a framework model is not authorized. Users of the 20 Critical Controls framework are also required to refer to http://www.sans.org/critical-security-controls/ when referring to the 20 Critical Controls in order to ensure that users are employing the most up to date guidance.