SEC511: Continuous Monitoring and Security Operations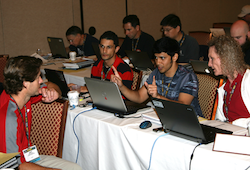 SEC511: Continuous Monitoring and Security Operations. We continue to underestimate the tenacity of our adversaries! Organizations are investing a significant amount of time and financial and human resources trying to combat cyber threats and prevent cyber attacks, but despite this tremendous effort organizations are still getting compromised. The traditional perimeter-focused, prevention-dominant approach to security architecture has failed to prevent intrusions. No network is impenetrable, a reality that business executives and security professionals alike have to accept. Prevention is crucial, and we can't lose sight of it as the primary goal. However, a new proactive approach to security is needed to enhance the capabilities of organizations to detect threats that will inevitably slip through their defenses.
The underlying challenge for organizations victimized by an attack is timely incident detection. Industry data suggest that most security breaches typically go undiscovered for an average of seven months. Attackers simply have to find one way into most organizations, because they know that the lack of visibility and internal security controls will then allow them to methodically carry out their mission and achieve their goals.
The Defensible Security Architecture, Network Security Monitoring (NSM)/Continuous Diagnostics and Mitigation (CDM)/ Continuous Security Monitoring (CSM), taught in this course will best position your organization or Security Operations Center (SOC) to analyze threats and detect anomalies that could indicate cybercriminal behavior. The payoff for this new proactive approach would be early detection of an intrusion, or successfully thwarting the efforts of attackers altogether. The National Institute of Standards and Technology (NIST) developed guidelines described in NIST SP 800-137 for Continuous Monitoring (CM), and Day five (5) will greatly increase your understanding and enhance your skills in implementing Continuous Monitoring utilizing NIST framework.
SANS is uniquely qualified to offer this course. Course authors Eric Conrad (GSE #13) and Seth Misenar (GSE #28) hold the distinguished GIAC Security Expert Certification (GSE). Both are experienced, real-world, practitioners who apply the concepts and techniques they teach in this course on a daily basis. SEC511 will take you on quite a journey. We start by exploring traditional security architecture to assess its current state and the attacks against it. Next, we discuss and discover modern security design that represents a new proactive approach to such architecture that can be easily understood and defended. We then transition to how to actually build the network and endpoint security, and then carefully navigate our way through automation, NSM/CDM/CSM. For timely detection of potential intrusions, the network and systems must be proactively and continuously monitored for any changes in the security posture that might increase the likelihood that attackers will succeed.
Your SEC511 journey will conclude with one last hill to climb! The final day (Day 6) features a capture-the-flag competition that challenges you to apply the skills and techniques learned in the course to detect and defend the modern security architecture that has been designed. Course authors Eric Conrad and Seth Misenar have designed the capture-the-flag competition to be fun, engaging, comprehensive, and challenging. You will not be disappointed!
With your training journey now complete and your skills enhanced and honed, it is time to go back to work and deliver on the SANS promise that you will be able to apply what you learn in this course the day you return to the office.
You Will Be Able To:
Analyze a security architecture for deficiencies
Apply the principles learned in the course to design a defensible security architecture
Understand the importance of a detection-dominant security architecture and security operations centers (SOC)
Identify the key components of Network Security Monitoring (NSM)/Continuous Diagnostics and Mitigation (CDM)/ Continuous Monitoring (CM)
Determine appropriate security monitoring needs for organizations of all sizes
Implement a robust Network Security Monitoring/Continuous Security Monitoring (NSM/CSM)
Determine requisite monitoring capabilities for a SOC environment
Determine capabilities required to support continuous monitoring of key Critical Security Controls
Utilize tools to support implementation of Continuous Monitoring (CM) per NIST guidelines SP 800-137
While the above list briefly outlines the knowledge and skills you will learn, it barely scratches the surface of what this course has to offer. Hands-on labs throughout the course will reinforce key concepts and principles, as well as teach you how to use key scripting tools (e.g., Python and Powershell) to automate continuous monitoring. We look forward to seeing you soon!
Notice:
This is a technical course and a laptop is required to perform the hands-on exercises. Also, building and establishing a SOC are outside the scope of this course.
Course Contents
Instructors
Schedule

SEC511.1: Current State Assessment, SOCs, and Security Architecture
Bryan Simon
Mon Dec 1st, 2014
9:00 AM - 5:00 PM


Overview

The prevention-dominant security model has failed. Given the frequency and extent of significant intrusions, this should not come as a surprise. In order to address the root of the problem, we must understand the current architecture and the design gaps that facilitate the adversary's dominance. What do we need to address to begin to make things better? Can we ever hope to win? What would winning look like? These are important questions that we must answer if we hope to substantially improve our security posture.

We begin with the end in mind, and define the key techniques and principles that will allow us to achieve that state. An effective modern SOC or Security Architecture must enable an organization's ability to rapidly find intrusions to facilitate containment and response. Both significant knowledge and a commitment to continuous monitoring are required to achieve this goal.

Topics

Day 1: Current State Assessment, SOCs, and Security Architecture

Traditional Security Architecture
Perimeter Focused
Addressed Layer 3/4
Centralized Information Systems
Prevention-Oriented
Device-driven
Traditional Attack Techniques

Modern Security Architecture Principles

Detection-oriented
Post-Exploitation focused
Decentralized information systems/data
Risk-informed
Layer 7 Aware
Security Operations Centers
Network Security Monitoring
Continuous Security Monitoring
Modern Attack Techniques
Adversarial Dominance

Frameworks and Enterprise Security Architecture

Enterprise Security Architecture
Security Frameworks

Security Architecture - Key Techniques/Practices

Threat Vector Analysis
Data Exfiltration Analysis
Detection Dominant Design
Zero Trust Model (Kindervag)
Intrusion Kill Chain
Visibility Analysis
Data Visualization
Lateral Movement Analysis
Data Ingress/Egress Mapping
Internal Segmentation
Network Security Monitoring
Continuous Security Monitoring

Security Architecture - Design Tools/Strategies

Mapping software
Visualization
Qualitative Risk Assessment
Lab: Design Review

Security Operations Center (SOC)

Purpose of a SOC
Key SOC roles
Relationship to Defensible Security Architecture

SEC511.2: Network Security Architecture
Bryan Simon
Tue Dec 2nd, 2014
9:00 AM - 5:00 PM


Overview

Understanding the problems with the current environment and realizing where we need to get is far from sufficient: we need a detailed roadmap to bridge the gap between the current and desired state. Day 2 introduces and details the components of our infrastructure that become part of a defensible network security architecture and SOC. We are long past the days where a perimeter firewall and ubiquitous antivirus was sufficient security. There are many pieces and moving parts that comprise a modern defensible security architecture.

In addition to discussing technologies like Next Generation Firewalls, UTM devices, Malware Detonation Devices, SIMs, DLP, and Honeypots that may not be found in all organizations, we will focus on repurposing traditional devices such as layer 3/4 firewalls, routers, switches, and NIDS. The goal of this course is not to give you a long list of items to add to the next year's budget, so we will focus on maximizing the capabilities of your current information security architecture, while pointing out new technologies that may offer a compelling return on investment (ROI).

Topics

Day 2: SOCs and Defensible Network Security Architecture

SOCs/Security Architecture - Key Infrastructure Devices

Traditional and Next Generation Firewalls, and NIPS
Web Application Firewall
Malware Detonation Devices
HTTP Proxies, Web Content Filtering, and SSL Decryption
SIMs, NIDS, Packet Captures, and DLP
Honeypots/Honeynets
Network Infrastructure - Routers, Switches, DHCP, DNS
Mobile Devices and Wireless Access Points
Threat Intelligence

Segmented Internal Networks

Routers
Internal SI Firewalls
VLANs
Detecting the Pivot

Defensible Network Security Architecture Principles Applied

Internal Segmentation
Threat Vector Analysis
Data Exfiltration Analysis
Detection Dominant Design
Zero Trust Model (Kindervag)
Intrusion Kill Chain
Visibility Analysis
Data Visualization
Lateral Movement Analysis
Data Ingress/Egress Mapping

SEC511.3: Endpoint Security Architecture
Bryan Simon
Wed Dec 3rd, 2014
9:00 AM - 5:00 PM


Overview

One of the hallmarks of modern attacks is an emphasis on client-side exploitation. The days of breaking into networks via direct frontal assaults on unpatched mail, web, or DNS servers are largely behind us. We must focus on mitigating the risk of compromise of clients. Day 3 details ways in which endpoint systems can be both more resilient to attack and also enhance detective capabilities.

These endpoints are increasingly portable devices that frequently stray beyond the traditional perimeter. This day ends with discussion about current modern security architecture and SOC design challenges and offers ways to accommodate rapidly changing business environments. Security architecture and virtualization, cloud services, mobile devices/applications, and web applications will be considered as the course moves from the design elements to the monitoring aspects.

Topics

Day 3: SOCs and Defensible Endpoint Security Architecture

Security Architecture - Endpoint Protection

Antimalware
Host-based Firewall, Host-based IDS/IPS
Application Whitelisting, Application Virtualization
Privileged Accounts, Authentication, Monitoring, and UAC
Whole Disk Encryption
Virtual Desktop Infrastructure
Browser Security
EMET

Dangerous Endpoint Applications

Java
Adobe Reader
Flash
Microsoft Office
Browsers

Patching

Process
To Test or Not to Test
Microsoft
3rd Party

Current Architectural Challenges

Virtualized Infrastructure
Cloud Services
Mobile Devices/Applications
Portable Devices
Web Applications
Browsers

SEC511.4: Network Security Monitoring
Bryan Simon
Thu Dec 4th, 2014
9:00 AM - 5:00 PM


Overview

Designing a SOC or security architecture that enhances visibility and detective capabilities represents a paradigm shift for most organizations. However, the design is simply the beginning. The most important element of a modern security architecture is the emphasis on detection. The architecture presented in days 1-3 emphasized baking visibility and detective capabilities into the design. Now we must figure out how to look at the data and continuously monitor the enterprise for evidence of compromise or changes that increase the likelihood of compromise.

We must first understand the approach and goals of monitoring and define a methodology for analysis. Key terms such as Network Security Monitoring (NSM), Continuous Diagnostics and Mitigation (CDM), and Continuous Security Monitoring (CSM) can cause confusion, and we will make sure these terms are understood to enable the security professional to guide an organization in the best practices. Speaking of best practices: we will emphasize the continuous monitoring of the Critical Security Controls.

Then we will describe enabling continuous monitoring by developing a model for employing robust Network Security Monitoring (NSM). NSM will allow an organization to deal with and make sense of data that will rapidly allow for the detection of potential intrusions or unauthorized actions.

Topics

Continuous Monitoring Overview

Defined
Network Security Monitoring (NSM)
Continuous Security Monitoring (CSM)
Continuous Monitoring and the 20 Critical Security Controls

Network Security Monitoring (NSM)

Evolution of NSM
The NSM Toolbox
NIDS Design
Analysis Methodology
Understanding Data Sources

Full Packet Capture
Extracted Data
String Data
Flow Data
Transaction Data
Statistical Data
Alert Data
Tagged Data
Correlated Data

Practical NSM Issues
Cornerstone NSM

Service-side and Client-side Exploits
Identifying High-entropy Strings
Tracking EXE Transfers
Identifying Command and Control (C2) Traffic
Tracking User Agents
C2 via HTTPS
Tracking Encryption Certificates

SEC511.5: Automation and Continuous Security Monitoring
Bryan Simon
Fri Dec 5th, 2014
9:00 AM - 5:00 PM


Overview

Network Security Monitoring (NSM) is the beginning: we need to not only detect active intrusions and unauthorized actions, but also know when our systems, networks, and applications are at an increased likelihood for compromise. A strong way to achieve this is through Continuous Security Monitoring (CSM) or Continuous Diagnostics and Mitigation (CDM). Rather than waiting for the results of a quarterly scan or an annual penetration test to determine what needs to be addressed, continuous monitoring insists on proactively and repeatedly assessing and reassessing the current security posture for potential weaknesses that need be addressed.

The volume of data that must continuously be sought and mined is vast: the goal of continuous monitoring would be out of reach without scripting and automation. Naturally, there are vendors and tools to scratch this itch, but they will be incomplete and require their own care, feeding, and monitoring. Day 5 describes how to perform continuous monitoring with simple tools and scripts.

Knowing how to script and automate is pointless unless you know what data should be captured and analyzed on a continuous basis. Again leaning on the Critical Security Controls, we will determine high value targets for continuous monitoring in an enterprise.

Topics

Continuous Security Monitoring

Overview

Continuous Security Monitoring (CSM) vs. Continuous Diagnostics and Mitigation (CDM) vs. Information Security Continuous Monitoring (ISCM)
Cyberscope and SCAP

Industry Best Practices

Continuous Monitoring and the 20 Critical Security Controls
Australian Signals Directorate (ASD) Strategies to Mitigate Targeted Cyber Intrusions

Winning CSM Techniques
Maintaining Situational Awareness
Host, Port and Service Discovery
Vulnerability Scanning
Monitoring Patching
Monitoring Applications
Monitoring Service Logs

Detecting Malware via DNS logs

Monitoring Change to Devices and Appliances
Leveraging Proxy and Firewall Data
Configuring Centralized Windows Event Log Collection
Monitoring Critical Windows Events

Hands on: Detecting Malware via Windows Event Logs

Scripting and Automation

Importance of Automation
PowerShell
Hands-on: Detecting Malicious Registry Run Keys with PowerShell

SEC511.6: Capstone: Design, Detect, Defend
Bryan Simon
Sat Dec 6th, 2014
9:00 AM - 5:00 PM


Overview

The course culminates in a team-based capstone project that is a full day of hands-on work applying the principles taught throughout the week.

The first component of the capstone requires teams to assess the deficiencies in a provided security architecture, and offer the best way to bridge the gap to achieve a robust security architecture/SOC environment. However, there is a twist...Teams must provide two different solutions to the same problem. One solution is the best-case-scenario where there are no budgetary constraints and unicorns and pixies frolic throughout the enterprise. While understanding the best we could possibly hope to achieve is laudable, an essential skill is to be able to distill down the best an organization can do given only what they have. So, teams first get it easy and have unlimited CAPEX, OPEX, and fully competent staff, and then teams are presented with the "real world" scenario and deal with no CAPEX, limited expansion of OPEX, and a less than ideal staffing capability.

The second portion of the capstone is an exercise in continuous monitoring. The task is to quickly and thoroughly instrument monitoring for a network; then the monitoring will be tested by authorized and unauthorized changes, system and application compromise, privileged account abuse, and lateral movement (to name a few). Teams will need to determine the extent of the changes, and perform triage to determine where containment and response efforts should be focused.

Topics

Day 6 - Capstone - Design/Detect/Defend

Security Architecture
Assess provided architecture
$0 CAPEX - Security Architecture
$$$$ CAPEX - Security Architecture
Continuous Security Monitoring
Using tools/scripts assess the initial state
Quickly/Thoroughly find all changes made

Additional Information

Laptop Required

CPU: 2.0+ GHz processor
RAM: 8GB or higher
25 Gigabytes of free disk space
Wired Ethernet port (or adapter)
USB Port (USB 3.0 recommended)
VMware Workstation 9, Player 5, or Fusion 5 (or newer)
A Linux and Windows 8.1 Virtual machine will be provided in class

If you have additional questions about the laptop specifications, please contact laptop_prep@sans.org.

Who Should Attend

Security Architects
Senior Security Engineers
Technical Security Managers
SOC Analysts
SOC Engineers
SOC Managers
CND Analysts
Individuals working to implement Continuous Diagnostics and Mitigation (CDM), Continuous Security Monitoring (CSM), or Network Security Monitoring (NSM)

Prerequisites

Basic understanding of network protocols and devices. Experience with Linux and Windows from the command line.

Hands-on Training

Automating/Scripting Continuous Monitoring
Security Architecture Design and Review
Cuckoo Sandbox
Squid Proxy
Snort for Exfiltration
Snort for Pivot Detection
DNS Sinkholes
Data Leakage Detection
Process Monitor
EMET
OSSEC
OSSIM
Mod_security
Log and Event Correlation
Automating Vulnerability Scanning/Reporting
Automating Port Scanning
Automating Host Discovery
Automating Service Detection
Final Capstone: Security Architecture Assessment and Continuous Monitoring Exercise

What To Take Next?

Courses that lead-in

Courses that are good follow-ups
Venue Information
DoubleTree by Hilton Atlanta NE/Northlake

4156 LaVista Road
Tucker, GA 30084 US

Phone:

Direct (678) 938-1026
Reservation Information
A block of rooms has been reserved for SANS attendees at a special rate of $84. Reservations must be made directly with the hotel via telephone at 770-938-1026. We also encourage you to check rates online.

Please check http://www.fedrooms.com for Government Per Diem availability in the area. Note, you may need to reserve your accommodations online (http://www.fedrooms.com) as these rates may not be available by contacting the hotel directly. However, if not available online, please feel free to contact the hotel directly.